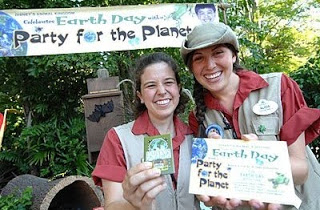 Take a timeshare vacation to Orlando where Walt Disney World's Animal Kingdom is hosting a "Party for the Planet" in celebration of Earth Day 2012. 
"Guests can find out what they can do to make their backyards wildlife-friendly and discover other ways to conserve wildlife and protect nature, including chimpanzees," said a Disney spokesperson.
The party is started as guests enter the park, at two table displays in the main entrance area: one featuring wildlife-friendly backyard habitats and the other Disney's new documentary "Chimpanzee." 
Activities in the park include:
1. Asia (Maharajah Jungle Trek)—Families can play a supermarket game and learn how their purchases can make a big difference for wildlife and wild places.
2. Africa (Pangani Forest Exploration Trail)—Children can observe and identify chimpanzee tracks and clues left behind along trails as they move through the forest.
3. Rafiki's Planet Watch, courtyard—Outside Conservation Station, guests will discover fun ways to spend time in nature with their families and find "Chimpanzee"-related merchandise, as well as face painters and caricature artists.
4. Rafiki's Planet Watch, inside Conservation Station—Families can visit the Chimpanzee Research Station and participate in a variety of activities based on real conservation work. Guests also can talk with cast members who work on conservation projects around the world and learn about the Disney Worldwide Conservation Fund.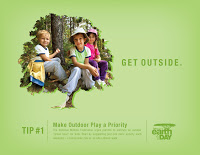 On the other side of the country, Earth Day at Disneyland will be celebrated as "Go Outside for Earth Day" at Downtown Disney. Bring your entire family to get outside and enjoy the benefits of nature with the following organizations, from 12 – 5 p.m. on Earth Day, April 22. 
Activities will be presented at no cost to encourage the next generation to spend more time outdoors, and its importance to their wellness.
1. USA Volleyball – The pros who train Olympians will demonstrate how the sport is played and pull youngsters into the fun.
2. Next Level Sports – Future athletes can shoot hoops and participate in kickball games.
3. First Tee LA – Budding golfers will get pointers on how to hit the links with a perfect swing.
4. Orange County Coastkeeper and The Coastal Conservation Network will share what it takes to keep our coastline and beaches safe for our wildlife.
5. Sunsafe will be on hand to educate sun-seekers about proper sun protection.
6. ESPN Zone – DJ Wendy will be spinning tunes and hosting conservation trivia for chances to win ESPN Zone game cards.
Make your Earth Day 2012 celebration a budget-friendly one by enjoying accommodations with Orlando timeshare rentals, and timeshare rentals in Anaheim, California.
Photo Credits: disneyparks.disney.go.com
Categorized in: Anaheim timeshare rentals, Disney's Animal Kingdom, Earth Day 2012, Earth Day April 22, Orlando timeshare rentals, Walt Disney World