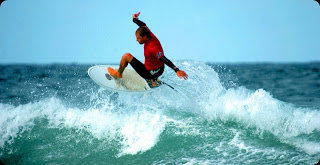 Fuerteventura in Spain's Canary Islands has a balmy climate with warm water all year round. You can enjoy surfing this island at white sandy beaches and clear turquoise water.
Nice swells are very common here as the Atlantic Ocean pumps waves very often. The island also fits all surfing levels. There are reef-rocky pro waves to beginner beach-breaks. Corralejo, on the island's north side, is a full service town right next to many surf spots fitting all surfing levels.
If you want to learn how to surf there's always two options, self-learning or getting lessons from a school. Surfing is a hard sport in the ocean, so self learning might be difficult and not rewarding, getting results that take too long on your own.
Surf lessons are much better, they will accelerate your improvement and are the fastest way to get results safely. There are many surf schools, and prices are not expensive at all. What you have to look for in quality surf lessons is checking the surf instructors´ details and license. A Surf camp is the cheapest and easiest way to get everything you need such as surf equipment (surfboard, wetsuit), surf lessons and surf transportation.
Never forget sun lotion, sunglasses and some kind of hat to protect you against the sun. At night time winds can refresh and you might need a light jacket and long pants to keep you warm. That's all you need, along with wetsuits and bathing suits, to wear on your timeshare vacation to Fuerteventura.
Madrid is the best place to fly from to get there. There are many flights every day to Fuerteventura.
I definitely recommend Fuerteventura to go surfing any time of the year – and most especially during Spring Break when the water is still cold everywhere else.
Check out timeshare rentals and timeshare exchanges in the Canary Islands.
Author: Josué Álvarez, Tenerife (Canary islands – Spain). Surfer, skater, snowboarder and webmaster. I manage WaveXperience Surf Camp website, and program and improve their booking system.
Categorized in: Canary Islands, Fuerteventura, spring break, surf destination for spring break, timeshare vacation