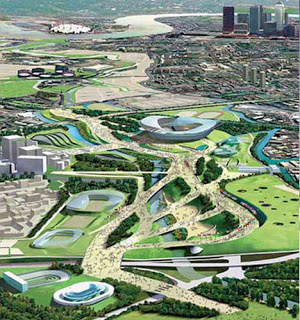 Global warming and ozone depletion are words with which we are all increasingly familiar thanks to the widespread pollution problems surfacing across the globe. The United Kingdom has taken a stand and London has shown that fair play and sportsmanship too can go the green way as the fine tuning of Olympic preparations enter the home run.
Since London is to play host again, British ingenuity has kicked off to make use of this event as a showcase of what can be done if one really is bothered about the environment.
Olympic Zone Park. 
The waste and industrial land of Stratford will be no more, not that any of the residents of East London are complaining. It has been turned into the venue for the Olympic Stadium, Olympic Village as well as Aquatics Centre.
Olympics to go green all the way. 
Carbon emissions can bid adieu as there have been low carbon emissions during the building of the Park and other venues by cutting down on construction waste and using ecologically compatible resources as well as promotion of healthy living. Thus, it follows the sustainability plan that ensures biodiversity is nurtured, waste eliminated, healthy living in citizens inspired as well as green house gas emissions minimized.
A plan to build on. 
One thing to note is how building without a plan swallows up green spaces and forest lands. The Games in London aren't going to add unnecessarily to the concrete jungle and here's how:
Usage of existent venues
Building temporary structures with waste management and low emissions
Focus on permanent structures that can be reused even later
To construct with thought:
Dust is a waterloo for most people as it is an allergen and noise is a headache especially from construction sites. It hinders humans as well as animals and birds and so its monitoring is one of the thoughtful measures inculcated
Preserving the habitat of wildlife is important. Reptiles have been removed from the construction site and will be re-introduced later once the process is over so they are not affected by the noise and dust
Pollution of waterways is kept in check. Chemicals and oils or construction materials are prevented from merging with water by observing a code for construction practice
On the side of travel.
Admittedly, traveling and commuting is one of the most stable forms of pollution. Low-carbon travel options are the focus along with health-based projects so that ordinary people too become a part of the One Planet initiative:
Rent bicycles to see London and the Olympic venues during your London timeshare vacation.
Interested walkers can turn the venues of the Games into exploration areas
After the Games:
A wildlife spot in the middle of city life
Sports facilities and playing fields open to all
Economic upsurge of new jobs due to Park maintenance
Cross-city improvements in transportation and the like
So, it's a win-win situation for all Londonites and timeshare visitors as well.
Photo Credit: london2012.com
Categorized in: London 2012 Olympics, london timeshare, london travel