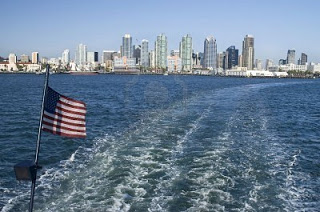 A timeshare vacation to San Diego not only gives you great beaches, but San Diego is also known for a number of world-famous activities. These include the San Diego Zoo, Safari Animal Park, Legoland, and the very first Sea World.
What doesn't seem to get as much attention is San Diego's real centerpiece – its beautiful harbor. There are so many activities to do just around – and on – San Diego Harbor that you could spend your entire San Diego timeshare vacation exploring it. Here are 3 must-dos:
San Diego Harbor Tours. There are a variety of ways to cruise the San Diego Harbor. Two favorites are the 1-hour Harbor Cruise, and the Speedboat Tour.

The Harbor Cruise carries you on a comfortable tour boat for the 13-mile tour of both the North and the South bays, covering over 50 points of interest. You'll see all types of ships, from the Star of India – an 1863 full-rigged windjammer – to the most modern U.S. Navy aircraft carriers. San Diego is the home port to both the U.S. Ronald Reagan, and the U.S. Carl Vinson, among numerous Navy cruisers, destroyers and even submarines. You might get to see a full regatta race of personal sailing yachts skimming across the harbor, and some private tuna clippers making their way home.

The Speedboat Tour is a clever spin on harbor sightseeing. You actually navigate and drive your own speedboat, following trained guides. You get the thrill of speedboating, combined with a narrated tour of the harbor using wireless headsets.

Maritime Museum of San Diego (see photo right). This exciting museum is actually on the water – on various boats and ships. You'll be able to board the Star of India – the oldest seafaring ship in the world. You can try to imagine living and working on this ship in the 19th century as it made its way across oceans and stayed at sea for months at a time.

Other boats in the museum's collection include the Berkley, an 1898 steam ferry that operated across San Francisco Bay for 60 years, and the Californian – the official Tall Ship of the state of California.

A surprise for most people is the HMS Surprise – the replica of a 24-gun frigate from the Nelson era of the English Royal Navy. This ship was actually used in the academy-award winning movie "Master and Commander: The Far Side of the World," starring Russell Crowe.

USS Midway Museum. Have you ever wondered what it's like on a real aircraft carrier? Here's your chance to find out. The USS Midway was completed in 1945, and was the first aircraft carrier to be too big to transit the Panama Canal. The flight deck itself is four acres. There are 25 restored aircraft, some that you can climb into.

And three real operational flight simulators from which to choose, so all ages can have fun pretending to be a Navy aviator stationed on an aircraft carrier. There are single-seat simulators, and two-seat simulators for a pilot and co-pilot. You'll get to "fly" fighter jets with take-offs, landings, and even engage in dogfighting in very realistic conditions.
Keep your vacation budget-friendly with San Diego timeshare rentals. There are many available throughout San Diego County.
Photo Credit (top): 123rf.com Photo Credit (center): flickriver.com
Categorized in: san diego harbor, san diego maritime museum, San Diego timeshare rentals, timeshare vacation, USS Midway museum