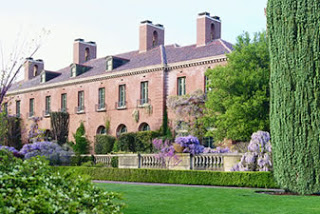 Just thirty miles south of downtown San Francisco is Fioli – one of the finest remaining country estates of the early 20th century. Rent a San Francisco timeshare and take Mom down to the town of Woodside for a Mother's Day experience she'll never forget.
The 654-acre Fioli estate, a historic site of the National Trust for Historic Preservation, includes a 36,000 square-foot Georgian country house, and a magnificent 16 acre English Renaissance garden. 
And held every  Mother's Day weekend, beginning on Thursday, is Fioli's spectacular Flower Show.
Each year exhibiting professional and amateur floral designers from the greater Bay Area create  floral masterpieces depicting their interpretations of  the theme, which for 2012 is "The Secret Garden, Discover the Magic."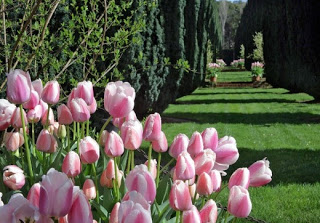 This floral spectacle is staged throughout the country mansion and around its spectacular gardens. In addition are flower-arranging demonstrations, garden vignettes, horticultural exhibits, music and tours of the beautiful gardens.  
Continue a special day for Mom by taking her to Fioli's Mother's Day Champagne Brunch, or  Filoli's High Tea; both are catered. Additionally, pre-ordered boxed lunches are available on Saturday and Sunday for a lovely picnic out by the gardens.  
Filoli, designed by prominent San Francisco architect Willis Polk, was built in 1915 for Mr. and Mrs. William Bowers Bourn, prominent San Franciscans whose chief source of wealth was the Empire Mine, a hard-rock gold mine in Grass Valley, California.
Landscape designer, painter and sculptor Bruce Porter brought his artistic talents to the plans for the layout of the extensive formal gardens.
Bourn arrived at the unusual name Filoli by combining the first two letters from the key words of his credo: "Fight for a just cause; Love your fellow man; Live a good life."
"Exquisitely beautiful and ever-changing, the gardens of Filoli offer visitors the chance to learn about the estate's renowned horticulture practices or to simply enjoy the serenity for which they were designed."
Photo Credit (top): fioli.org
Photo Credit (center): home-garden-info.com
Categorized in: Fioli, Fioli's Flower Show, Fioli's High Tea, Fioli's Mother's Day Champagne Brunch, Mother's Day, San Francisco timeshare rentals