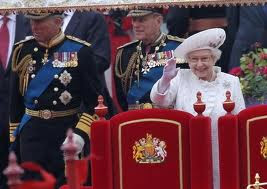 The extended weekend of June 2 – 5 is the official celebration of the Queen's Diamond Jubilee, marking Queen Elizabeth's 60 years of continuous reign.  Plan a
timeshare vacation
in England during 2012. If you've missed being in London for the Queen's Jubilee celebration events, there is still time this summer for the London 2012 Festival, and the London 2012 Olympics.
On Sunday, June 3, Queen Elizabeth II rode the Royal Barge leading the Jubilee Flotilla down the Thames River (see photo). Over 1000 vessels of all types joined in the waterborne pageant to mark the Diamond Jubilee.
Meanwhile, events celebrating the Queen's Diamond Jubilee continue. Today, June 4th, is the hugely anticipated BBC Concert at Buckingham Palace. The program of this once-in-a-lifetime concert is a cavalcade of some of the biggest musical stars of Great Britain, including Sir Elton John, Sir Paul McCartney, and Scottish singing sensation Susan Boyle. ABC Television has the exclusive USA rights for rebroadcast of this Diamond Jubilee Concert, which you'll be able to see on Tuesday, June 5, 9pm Eastern time/8pm Central time.
Also on Monday, June 4th, is the lighting of the Queen's Diamond Jubilee Beacons. A network of exactly 2,012 beacons will be lit by communities and individuals throughout the United Kingdom, as well as the Channel Islands, the Isle of Man, and the Commonwealth. At 10pm local time Queen Elizabeth herself will light the National Beacon outside Buckingham Palace.
Tuesday, June 5th, the final day of the Diamond Jubilee weekend, the celebrations will culminate in a day of events throughout London. A service at St. Paul's Cathedral will be followed by two receptions which the Queen will attend. Later Queen Elizabeth will participate in a Jubilee lunch at Westminister Hall, and a Carriage Procession to Buckingham Palace which will be accompanied by military bands along the route, as well as a 60-gun salute. 
The day will end with a Balcony appearance, an RAF Flyover which will include WWII Spitfires and the Royal Air Force aerobatic team the Red Arrows, and a Feu de Joie (Fire of Joy) – a celebratory cascade of rifle fire given as a salute by the Queen's Guard.
Check out Great Britain timeshare rentals and timeshare exchanges:
Photo Credit: nj.com
Categorized in: England timeshares, Great Britain timeshares, Queen Elizabeth II, Queen's Diamond Jubilee, Scotland timeshares, timeshare exchanges, timeshare rentals