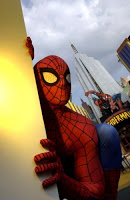 With Memorial Day behind us that means just one thing – it's Summer. And what better way to celebrate than planning a budget-friendly summer family timeshare rental vacation to – where else – Theme Park, USA – Orlando, FL.
2012 is the year to visit Universal Orlando, which is pulling out all the stops on new rides and exciting events. With the help of our friends at Theme Park Tourist newsletter we have the latest information:
1. Wet 'n Wild. In the summer, the Wet 'n Wild water park will open its first interactive family water play area featuring 15 water slides and more than 100 soakers, jets, waterfalls and water cannons – making it the largest interactive water play experience in Florida.
2. SpongeBob SquarePants. Later this year will be the opening of a retail entertainment experience that will become home the characters from the number one kids animated TV series, Nickelodeon's SpongeBob SquarePants. 
3. The Amazing Adventures of Spider-Man (see top photo). This ride will soon feature all-new, 4K digital high-definition animation, new high tech 3-D glasses and upgrades to the set, audio and lighting systems. 
4. Despicable Me Minion Mayhem. Universal Orlando's newest attraction will take you on a 3-D adventure with your favorite characters from the hit film – Gru, Margo, Edith, Agnes and the mischievous minions.The experience begins when guests enter Gru's home, where they learn that they're being recruited to become minions and undergo "minion training."
5. Superstar Parade. Some of today's most beloved characters and stories will bring new adventure to the streets of Universal Studios during Universal's Superstar Parade – an all-new daily parade that features larger-than-life floats, state-of-the-art technology and hundreds of energetic street performers.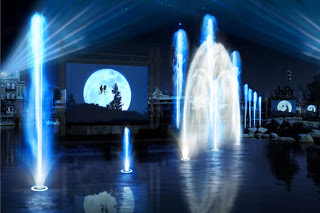 6. Cinematic Spectacular – 100 Years of Movie Memories. Narrated by award-winning actor Morgan Freeman, Universal Orlando's brand-new night time show, Universal's Cinematic Spectacular (see photo left), will celebrate the most powerful and emotional moments from Universal Pictures' most iconic films – all on cutting-edge waterfall screens within the Universal Studios lagoon.
Photo Credits: universalorlando.com
Categorized in: budget-friendly timeshare rentals, family-friendly timeshare rentals, Marriott's Grand Vista, Spider Man, Universal Orlando