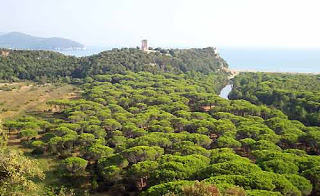 Maremma is a large territory stretching between southern Tuscany and northern Lazio. It starts soon after Siena, and is delimited to the west by the Livorno province and the Thyrrenian sea.
The territory completed its transformation before WWII. After being a swamp for centuries, the land was reclaimed during a long interval that started at the beginning of the 19th century and lasted for more than hundred years.
Today it's known for its beautiful wild landscapes, crystal clear sea waters and genuine agricultural products. Being a swamp for so many centuries has created a very fertile soil, while the climate is never extremely hot nor cold, thanks to the mitigating action of the nearby sea.
One of the highlights of Maremma is its park. Parco dell'Uccellina (see top photo) extends more than nine thousand hectares, and is a wildlife refuge of great importance that even received a European recognition of excellence. It is a fantastic land going from Principina a Mare until Talamone.
By the mouth of river Ombrone a small portion of the marshes that once occupied most of Maremma can be found and are the ecosystem of delicate marine life forms and a sanctuary for aquatic birds.
 The very romantic character of Maremma makes it the perfect place for exploring beguiling Tuscan villas and captivating farmhouses.
Moving inland and southbound, the conformation of the territory becomes more irregular thanks to the Monti of Uccellina, covered with lush green vegetation. To the south of the Uccellina you can find vast prairies and the land of Butteri – the Tuscan version of cowboys. Large Maremma-breed cows can be admired while grazing on these never-ending pastures, while it is not uncommon to spot a pack of wild horses running free in the distance.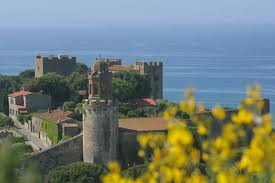 Here anyone can craft their ideal travel experience. For those in search of a seaside vacation, the coast of Maremma stretches for hundreds of kilometers with some of the most enchanting towns, including typical fisherman villages perched on the coast and wetted by the Mediterranean.
However, if one's dimension is best found far from the seaside, mainland Maremma offers a variety of delicious sites where to lose oneself for a week or two. Capalbio, Scansano, Monterotondo and a great many others would be perfect suggestions for those of you who wish to spend time by ancient city walls baked by the sun and centuries of history.
 

The wild character of this land can be savored in many ways, but the best advice anyone could give you is to do it with horseback excursions. Maremma is a horse breeding territory. Therefore it is common to find farmhouses offering horseback rides.
So for a timeshare vacation that offers the best of all worlds – some of the most pristine beaches in Italy, beautiful rolling farmlands, ancient towns to explore – find a budget-friendly timeshare rental in Tuscany and enjoy Maremma.
Our guest author is Matt, whose passions are Italy and Tuscany, and who writes about them on his blog on Italy. 
Photo Credit (top): forumlibri.com
Photo Credit (center): localidautour.com
Photo Credit (bottom):anticocasalediscansano.it
Categorized in: Maremma, Ombrone River, Paraco dell' Uccellina, timeshare vacation, Tuscany, Tuscany timeshare rentals