If you're still looking for the perfect Father's Day gift, give dad something he can really use on his next timeshare vacation – travel apps for his iPad. Here are the Top 6 iPad travel apps for 2012 as compiled by Market Watch: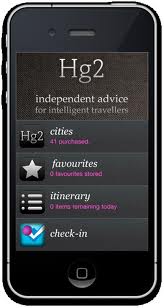 1. HG2 (see photo right). This app is packed full of information on over 40 cities, giving dad local knowledge on the best restaurants, shops, bars, and nightclubs. Its features include: each guide is compiled by writers who have lived in that city so content is packed with insider knowledge. 


2. XE Currency Converter. A currency converter is an obvious must-have on any trip out of the country. The features of this app include: live up-to-the-minute rates; a list of all world currencies and precious metals; choose up to ten currencies at a time; and calculate prices.
3. Google Translate. Another must-have for dad on a trip abroad. The features of this translating app include: Translate text between 64 languages; translate by speaking the text in 17 languages; listen to the translation spoken aloud in 24 languages; display translations in full screen mode; and star favorite translations for quick access even when offline.
4. Skyscanner. Dad can compare over 1000 budget and scheduled airlines in seconds. The features of this app include: compares millions of flights on over 1000 airlines; finds the cheapest places to fly; finds the cheapest dates to fly; and is the most flexible and powerful flight search app in the world.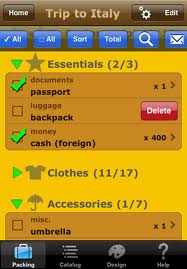 5. Packing Pro (see photo left). With this app dad has a handy packing check list. Features include: an extensive, customizable catalog; several handy sample lists that can be used as templates; multi-item selection for speedy list building; numerous packing list sorting and display options; and weight and value totals.
6. TourWrist. This amazing app will allow dad to create a 360-degree panorama of his travels. The features include: integrated panoramic photography function; 3-D viewing technology; touch-based navigation; access to beautiful imagery from some of the world's most talented photographers, and supporting descriptions, maps, and web links that give dad a broader understanding of each area dad explores.
 And best of all, each of these top travel apps is free. Add that to giving dad a budget-friendly timeshare rental, and he's well on his way to a great trip and a special vacation. Many timeshare rentals are available all over the world, including Thailand timeshare rentals, Europe, Australia, and South Africa. Send dad someplace where he'll need to use his currency converter and translation apps!
Photo Credits: itunestore.com
Categorized in: Father's Day, Father's Day gift, ipad travel apps, Thailand timeshare rentals, timeshare rentals, timeshare vacation