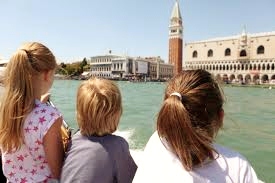 Traveling anywhere with children presents its challenges, especially when the destination is unfamiliar and the travel time is long. When you go on your next timeshare vacation maintain your sanity by planning ahead and utilizing the following tips.
Get Your Travel Documents in Order
Remember that even your toddler needs a passport and that these can take weeks to acquire, so plan accordingly. You and your child must apply in person, and if both parents cannot be there, you must bring a notarized statement of consent from the other parent. This also applies to parents traveling solo with their children outside of the country; check with your travel agent or the country's embassy for specific requirements.
Visit the Doctor 
Make sure that your child has the necessary immunizations for travel and that you have packed updated prescriptions. It's a good idea to plan ahead for unexpected illnesses; include some children's pain reliever, antidiarrheal medication, and antihistamine in your carry-on.
Pack Healthy Snacks
There's no way of knowing how often food will be offered on a long journey, or how your child will react to it. Your best bet is to pack healthy options you know your child loves—like granola bars, dried fruit, nuts or even plain Cheerios. You can allow your kids to have a soda as a treat, but make sure to keep them hydrated with lots of water.
Pack a Special Travel Bag
Keep a small suitcase especially for long journeys and make a rule that it is only to be opened once the trip has begun. Load it with coloring books, stickers, favorite toys, Mad Libs, and maybe even an iPod or portable DVD player. Choose a travel bag with a hard case, so that it can be used as a drawing surface. Include sugarless gum to help with adjusting to pressure changes during the plane's descent.
You've Arrived, Now What?
Make arrangements in advance for your child's safety and comfort once you get to your destination. Will the timeshare provide a crib? If you're renting a car, can the rental company provide you with an up-to-date car seat?
These items need to be pre-arranged or added to your list of things to pack. Consider other safety precautions, such as whether the water at your destination is safe to drink, and whether the sun will be stronger than what your children are accustomed to. Plan to keep bottled water, waterproof SPF 30 sunscreen, and sanitary wipes with you at all times.
Our guest author is Magnus Hirst, a tour guide and Social Media Coordinator at Icelandic Travel Market, a leading Iceland tours company specializing in bus tours, Iceland day tours, jeep tours, Iceland group travel, glacier walks, whale watching tours, and much more.
Photo Credit: skvots.net
Categorized in: timeshare, timeshare vacation, travel documents, traveling with kids