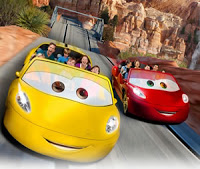 Cars Land officially opened to the public on Wednesday, June 15 at Disney's California Adventure Park in Anaheim, and now you have a real excuse for an Anaheim timeshare vacation! 


Eagerly awaited by fans of all ages, construction of the 12-acre Cars Land attraction began a long five years ago as part of the overall redesign, expansion, and "re-Imagination" of California Adventure. 
Take a look at what you can expect at Cars Land, as well as the brand new entrance to California Adventure Park – Buena Vista Street:
Wish you could have been at the Cars Land Opening Ceremony the  night of June 13? You can still be part of the excitement by watching it in its entirety here, including an introduction of the actors behind the voices in both Cars films. The final minutes of this video take you on another tour of all the fun and excitement that Cars Land has to offer.
There are all kinds of timeshare rentals in California from which you can choose. And if you want to stay near Disneyland, check out the Peacock Suites Resort where timeshare rentals start at just $86/night, and you're just a mile from the Disneyland Park Resorts.
Photo Credit: disneyland.disney.go.com
Categorized in: California timeshare rentals, Cars Land, Disney, Disney's California Adventure, Disneyland, Peacock Suites Resort, timeshare vacation