Fourth of July is coming right up, and a number of RedWeek members are busy posting last-minute timeshare rentals. The June RedWeek newsletter lists three great deals: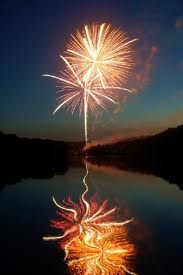 1. Westgate Branson Lakes, Hollister, MO. This resort sits right alongside Table Rock Lake, the site of Branson's Fireburst Fourth Of July Fireworks show (see photo right). Watch this fireworks spectacular from the resort, or rent a boat and join the hundreds of others out on the lake itself. Either way, the amazing reflections in the lake will be like you're seeing the fireworks twice.
During the day be sure to join the Spirit of '76 Celebration for wholesome, family-friendly Independence Day fun. There will be musical entertainment, plenty of food, and even hot air balloon rides.
You can get a July 4th Westgate Branson Lakes timeshare rental for just $135/night. Resales start at $950.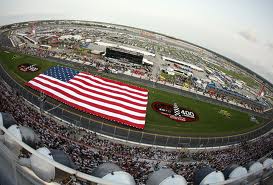 2. Daytona SeaBreeze, Daytona Beach, FL. For a taste of nostalgia head down the beach from this resort to the BandShell and sit back and enjoy the Big Band sound of the Jim Miller Orchestra, followed by a fireworks extravaganza from the end of the Daytona Beach Pier.
There's plenty going on with NASCAR® over the Fourth of July weekend, too (see photo above). It all culminates on Saturday, July 7th, when the stars of the NASCAR® Sprint Cup Series have a showdown in the Coke Zero 400.


July 4th timeshare rentals at the beautiful Daytona SeaBreeze start at $150/night. Resales start at $1200.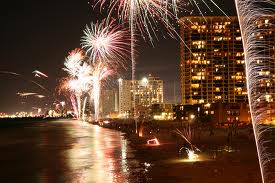 3. Wyndham Towers in the Grove, North Myrtle Beach, SC. No one does Fourth of July quite like Myrtle Beach (see photo right). With fireworks and festivities galore, you'll find plenty of ways to celebrate Independence Day at the beach. Less than a mile from the Wyndham Towers resort you can watch fireworks as they explode high overhead at the Cherry Grove Fishing Pier.
Before the fireworks celebration you'll have plenty of time to check out the Fourth of July festivities along Myrtle Beach's Grand Strand, where you can enjoy a number of amusement parks, and aquarium, and an astounding 1,900 restaurants.
Get a July 4th timeshare rental at Wyndham Towers in the Grove for just $143/night.
Photo Credit (Branson): discoverbranson.com
Photo Credit (Nascar): bleacherreport.com
Photo Credit (North Myrtle Beach): condolet.com
Categorized in: Daytona SeaBreeze, Fourth of July, nascar, timeshare rental at the Wyndham Towers in the Grove, timeshare rentals, Westgate Branson Lakes timeshare rental