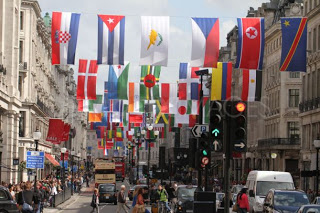 One month from today, on July 27, 2012, the long-awaited opening ceremony of the London Olympics will officially begin the 2012 Summer Games. The London Olympics games will be played July 27 through August 12. Timeshare rentals throughout the United Kingdom will offer you great accommodations any time this summer.


An update on the London Olympics indicates that most everything is ready, and the Britts are well prepared. The stadium is ready to go, the final rehearsals are underway, and rows of giant flags representing 206 countries are already up and fluttering brightly over Regent Street (see top photo). 
And Boris Johnson, London's mayor, says, "London is more than ready for the greatest Olympics ever!" 


With 6.7 million visitors poised to descend on the British capital, security is in place as well. All of the Olympic venues, where airport-style security is to be enforced, will be covered by 23,700 security personnel, including members of the military. 
In addition, 12,000 police officers will be deployed on the busiest days. Large equipment will also be on stand-by including surface-to-air missiles, typhoon fighter jets, helicopters, and at least two warships.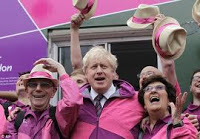 On the upside, visitors unfamiliar with navigating such a sprawling city can expect a friendly hand from an army of 8,000 brightly-dressed, trilby hat-wearing volunteers, called Team London Ambassadors (see photo left), who will be stationed at the airport and around town to provide smiles and tourism advice. 
The Olympic flame arrived in Britain from Greece on May 18. A total of 8,000 people will carry the torch during its 8,000-mile journey to the opening ceremony in London on July 27. The relay began at Land's End, the most southwesterly point of mainland England, on May 19 with Britain's most successful Olympic sailor Ben Ainslie.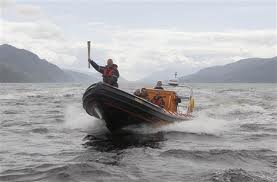 Since then the torch has traveled to the top of Snowdon, the highest peak in Wales, with mountaineer Chris Bonington, has been carried on a zip wire from the top of the Tyne Bridge in northeast England, and even traveled on Loch Ness while visiting Scotland (see photo right). 
When it arrives in London a day before the Olympics opening ceremony on July 27 the torch will visit the official residences of both Queen Elizabeth and the Prime Minister. 
What with the Queen's Diamond Jubilee and the London Olympics, the year 2012 is a high point for a United Kingdom timeshare rental vacation.
Photo Credit (top): demotix.com 
Photo Credit (center): ibtimes.co.uk 
Photo Credit (bottom): bbc.co.uk
Categorized in: 2012 Summer Games, London 2012 Olympics, Olympic flame, Olympic torch, Olympic torch relay, timeshare rentals, timeshare travel, timeshare vacation