The Fourth of July is coming right up, but there's still time to make timeshare vacation plans and head out to some of the premier July 4th celebrations.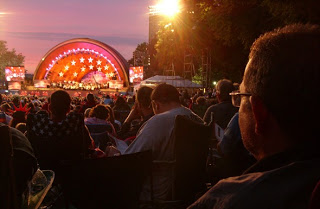 1. Boston. This city that had so much to do with the American Revolution, and thus our 2012 Independence Day celebration, also has one of the most iconic and over the top celebrations. Combined with HarborFest, which kicks off on June 29th, over 200 events culminate in the Fourth of July spectacular. The events (some of which are free) include Kids' Days activities, harbor cruises, patriotic tours, reenactments at historical sites, and, of course, the premier concert and fireworks extravaganza of the Boston Pops.
Check out timeshare rentals in Massachusetts.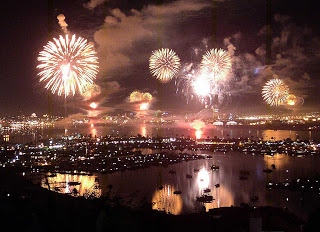 2. San Diego. One of the biggest lollapalooza fireworks displays in the country is San Diego's Big Bay Boom, a no-holds barred pyrotechnic show touted as the largest in the west. The natural amphitheater of San Diego Harbor is perfect for this flashy performance.
Fireworks are discharged from four barges and from the end of the Imperial Beach Pier. You can have a great view of the fireworks from 5 different locations around the bay, and parking with free shuttle service is provided for two of them.
The Port of San Diego's Big Bay July 4th Fireworks Show benefits the San Diego Armed Services YMCA's family service program, including the wounded warriors at Balboa Naval Hospital, and accepts sponsorship funds and personal contributions from the public.
Check out Southern California timeshare rentals.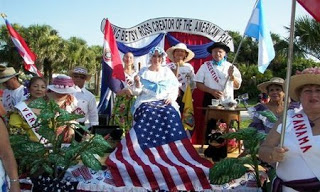 3. U.S. Virgin Islands. For red, white, and tropical blues, head to the Caribbean for a Fourth of July celebration like none you've seen before. The U.S. Virgin Islands pull out all the stops for not one, but two holiday celebrations. Their own Emancipation Day, on July 3, commemorates the end of the slave trade by the islands' Danish colonizers in 1848. And since joining the U.S. as a protectorate in 1917, America's Independence Day is celebrated with great enthusiasm on July 4th.
The Fourth of July celebrations culminate on St. John with a colorful parade that combines both American and native Caribbean traditions, some of which will be familiar to you, while others are typically Caribbean, such as the steel drum bands and the lively spirit of Carnaval.
Check out timeshare rentals on St. John.
Photo Credit (Boston): travel.aol.com
Photo Credit (San Diego): trollyblogs.com
Photo Credit (St. John): travelgrog.com
Categorized in: Fourth of July, Southern California timeshare rentals, timeshare rentals in Massachusetts, timeshare rentals on St. John, timeshare vacation