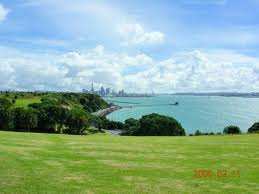 When in New Zealand, do what the locals do. Situated just a short 10min drive from inner Auckland, Mission Bay is one of the city's most popular beaches.


Named for the Melanesian Mission that was built there in the 1850s, you can still see some of the original buildings built from volcanic rock from the nearby extinct volcano, Rangitoto Island.
The beach is safe for swimming year-round, and people stay in shape in all kinds of ways at Mission Bay, from jogging to touch rugby, sailing to cycling, and kayaking to swimming. Rollerblades, kayaks and bicycles are all available for rent.
Others go to Mission Bay to relax and sun bathe, have a picnic or let the kids play on the playground, in the fountain or on the beach. That fountain is a real beauty: the Trevor Moss Davis Memorial Fountain is constructed of Sicilian marble and crowned by three bronze sea monsters. It gushes water 12 metres into the air and puts on a great light show at night.
Mission Bay can also be a great place to take in some of the beauty of the Auckland area. Many visitors like to have a seat on Bastion Point and enjoy the fantastic view of the Haruaki Gulf. Built to honor one of New Zealand's favorite leaders, the Michael Joseph Savage Memorial is a great place to catch your breath, have a picnic and gaze at the spectacular Waitemata Harbour.
After a spirited game of volleyball or an appetite created by strenuous reading of the latest bestseller in your beach chair, you can cruise Auckland's only beachfront dining precinct for sustenance. Almost every style of international cuisine is on hand, from Indian to Mexican, Italian to Thai, Spanish to Kiwi. After dinner, you can hit one of several coffee bars and top off your meal just right.
If you want a quick bite or snack, several takeaways stand ready, from pizza to ice cream and frozen yoghurt. Of course, if you just want a beer or a glass of New Zealand wine, you can find a spot at a bar that looks across the horizon to Rangitoto Island and cap off a perfect day in Auckland.
If it's your mission to discover the locals' ideal place to spend a day, you must visit Mission Bay, the city's beachfront sector with something to offer for visitors of any age.
Check out the many New Zealand timeshare exchanges available.
This post comes courtesy of Omega Car Rental New Zealand, one of NZ's top independent car rental firms. For those wanting to visit Mission Bay from the inner city, Omega Rental Cars Auckland depot is your most convenient location.
 Photo Credit: panoramio.com
Categorized in: Auckland Mission Bay, New Zealand, New Zealand timeshare exchanges, Rangitoto Island, Timeshare Exchange, timeshare travel