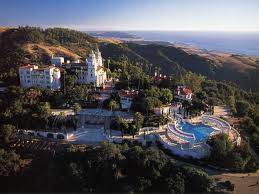 While it's true that Europe offers a plethora of palaces and castles which trace royal origins back many centuries, the U.S. has a "castle" that can rival the opulence of any in Europe – and visiting it is perfect for a timeshare vacation right here in this country.
Publishing magnet William Randolph Hearst built what was to become one of the world's most extravagant showcases, Hearst Castle, on Mexican ranchero land bought in the 1800s by his father, a successful miner.
With its 165 rooms and 127 surrounding acres of landscaped gardens, terraces, pools and meandering walkways, along with a grand view from a hilltop that overlooks the sparkling Pacific Ocean, this estate is one-of-a-kind.
It took almost 25 years to build the entire estate. The twin-towered main house, "Casa Grande," exceeds 60,000 square feet. It has 56 bedrooms, 61 bathrooms, 19 sitting rooms, and an amazing 41 fireplaces. Also included on the estate are three guest cottages, the largest of which is over 5800 square feet. And if all that weren't enough, there are also tennis courts, a movie theater, an airfield, and a zoo.
One of the best ways to see the "Castle," especially for first-timers, is with the "Grand Rooms Museum Tour. " This allows you to experience what it would have been like to be one of Hearst's favored weekend guests. Among the rooms in the main house that you'll see are the Assembly Room, where guests gathered for cocktails; the Refectory, or monastery-like dining hall; the Billiard Room; and the private movie theater. 


The "Cottages and Kitchen" tour will get you into the richly-designed guesthouses, as well as Hearst's world-famous wine cellar where there are three thousand bottles still stored.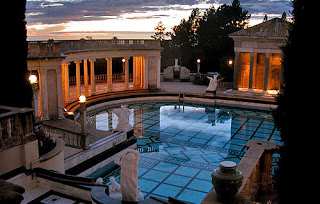 The "Evening Museum Tour," is available seasonally, and will give you a sense of actually staying at La Cuestra Encantada – "The Enchanted Hill" – as Hearst himself called the estate. It truly is enchanted when you see a spectacular sunset over the ocean, and watch the evening stars lay a brilliant carpet across the sky. 


You also will have fun as Hearst Castle becomes a living history museum, with "guests" wandering about, and "staff" intent on their duties, all dressed in period 1930's costumes. 
To make your trip to California's Hearst Castle a budget-friendly one, be sure to check out timeshare rentals that are available across the Golden State, where you can find vacation accommodations for up to 50% less than the cost of staying in hotels.


Photo Credit (top): bestbuddieschallange.org
Photo Credit (bottom): exoticexcesses.com
Categorized in: California timeshare rentals, Hearst Castle, timeshare rentals, timeshare travel, timeshare vacation, William Randolph Hearst