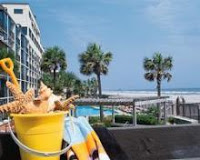 Do you want to know one of the best kept secrets for a great Vacation Deal? Rent a timeshare for your family vacation.
Many people are unaware of the advantages of renting a timeshare for a budget-friendly family vacation. Timeshare rentals typically cost up to 50% less than hotel rooms, especially when rented directly from the owner.
When owners are unable to use their timeshare weeks, renting out the timeshare becomes a win/win for both the owner and families who are looking for vacation accommodations that are a bargain. And with a timeshare rental you can stay at luxury resorts that you might not otherwise be able to afford.
Instead of an expensive and cramped hotel room, how luxurious would it be to stay in accommodations that are open and spacious and relaxing? A timeshare is like a real home-away-from-home. You have separate bedrooms, a dining area, a living room, a patio or balcony, and a kitchen. And best of all – maid service will clean it, keep it supplied with fresh towels and linens, and even carry out the garbage.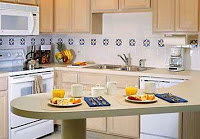 Even more budget-friendly is being able to save money on meals. Most timeshare rentals come with a full-sized, fully-equipped kitchen. That makes it easy to prepare meals so you don't have to pay high restaurant prices three times a day. And talk about convenience – now you can sleep in, and fix breakfast right there – no more trying to get everyone up, showered, dressed and out the door just to get something to eat. And the kitchen makes it easy to prepare inexpensive, nutritious snacks for those constantly hungry kids.
You can stay in a hotel with the use of one small pool (often for an extra fee), or stay in a timeshare rental where many of the resort's amenities are included in the rental price. Most resorts will have swimming pools, often with waterpark features, hot-tubs, kiddie pools and children's playgrounds, as well as tennis courts, and arcade game rooms.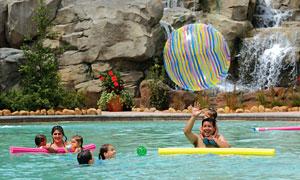 Additional resort activities often include such things as miniature golf, volleyball, and even bocci ball tournaments. You can find arts and craft classes, ice cream socials, and BBQ get-togethers. Depending on the location, you'll also have direct access to beaches, mountain biking trails, skiing, or theme parks right out your front door. All this, and often for much, much less than what a hotel room costs.
Timeshare rentals offer families the opportunity to vacation at luxury resorts for less – and that's a great Vacation Deal!
Check out the many timeshare rentals that are listed by RedWeek's members. You'll find them all around the world, in the center of big cities, and even in secluded hideaways off the beaten path. There's something for everyone, and best of all they're all budget-friendly.
Photo Credit (top): Festiva.com
Photo Credit (center): Marriott.com
Photo Credit (bottom): disney.go.com
Categorized in: budget-friendly family vacation, Disney, Festiva, Marriott, timeshare rental, timeshare vacation, vacation bargains