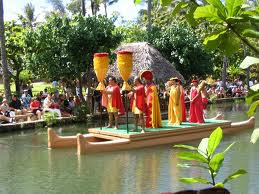 Hawaii is a land of volcanoes, world-class snorkeling, spectacular weather and beautiful beaches. Hawaiian timeshares are the best way for visitors to experience everything the islands have to offer while sharing the opportunity with friends and family.
Anyone who has flown to Honolulu remembers the experience of touching down on the edge of a tropical island that is lined with palm trees and pristine beaches. With a timeshare property, anyone can relive this experience year after year.
Start Your Hawaiian Vacation on Oahu
Oahu is a wonderful place to begin your tropical vacation. Oahu is home to Honolulu, 80 percent of Hawaii's residents and some of the state's most popular attractions. Take a swim on Waikiki Beach while viewing the craggy outline of Diamond Head. Visit Pearl Harbor and the USS Arizona Memorial before heading over to the Dole Pineapple Plantation. 
The Polynesian Cultural Center (see photo top) is another must-see attraction. It's on the opposite side of the island from Honolulu, and the drive is spectacular. 
Essential Activities for Your Hawaiian Vacation 
If you're relaxing at a timeshare unit, it's easy to schedule activities. Try sea kayaking, go snorkeling or drive to the top of a volcanic peak on an organized tour. If you prefer making your own plans and operating on your own schedule, there are plenty of things to do on all of the beautiful Hawaiian Islands. 
Snorkeling is the number-one must-do activity for anyone visiting Hawaii. You can immortalize your memories with a disposable underwater camera or a dry bag that converts any camera into a waterproof device. See docile sea turtles up-close, mingle with vibrant tropical fish and discover the marine life that thrives under the sea.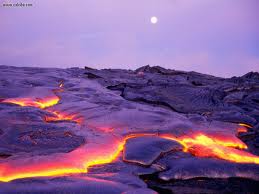 Hawaii is a land of extremes and a place where sightseeing opportunities appear around every corner. On an island, everything is accessible. Spend a day driving along the coast to see dramatic black sand beaches, white sand beaches, volcanoes, lava fields (see photo above), tropical rainforests, waterfalls and dramatic canyons that are covered with lush foliage. 
Whether you're seeking a romantic hideaway or a quintessential tropical vacation, the Hawaiian Islands have something to offer everyone. If you ever wish to vacation in another area, exchanges are easy to come by because everyone wants to visit Hawaii. 


Live the tropical life with a Hawaiian timeshare. Check out the many Hawaiian timeshares listed for rent, exchange, and resale.
Our guest author, Nick Simpson, is the social media coordinator for Hawaii-Aloha.com, a Hawaiian travel agency that specializes in Hawaiian weddings. 
Photo Credit (top): polynesianculturalcenter.com 
Photo Credit (bottom): nps.gov
Categorized in: Dole Pineapple Plantation, Hawaiian timeshares, Oahu, Polynesian Cultural Center, timeshare exchanges, timeshare rentals, timeshare resales, USS Arizona Memorial