Nicole Frehsee of Budget-Travel has listed a number of places she says kids should see before they are fifteen. The following three are great destinations for kids of all ages, and the bonus is that they are where budget-friendly timeshare rentals are available.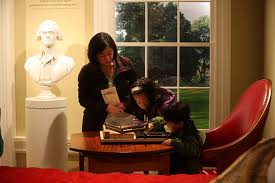 1. Monticello, Virginia. Located just outside Charlottesville, Monticello (pronounced "Mon-ti-CHELL-o"), Thomas Jefferson's beloved estate, is a fascinating look at the day-to-day life of one of America's most celebrated forefathers.
For kids, the Griffin Discovery Room, which opened on the grounds in 2009, is the way through the magical door, allowing kids to get in touch with not only Jefferson himself and his many fantastic inventions, but learn how children of his time lived as well.
 Here everything is fun hands-on, such as Jefferson's invention – the polygraph copying machine (see photo above). Even his closet is fair game: Kids can try on clothes modeled after his 18th-century wardrobe. In addition kids can learn how to weave, work with a facsimile blacksmith hammer, and even create secret codes on Jefferson's wheel cipher design.
 Monticello is a fun day trip from your Washington, DC timeshare rental.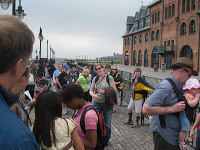 2. Ellis Island, NY. Kids, even the teens, are naturally interested in how the connect to other family members. Between 1892 and 1924, more than 17 million immigrants passed through Ellis Island; today, their descendants account for 40 percent of Americans.
Here kids can go on a hunt for their ancestors at the Ellis Island Immigration Museum, where for $5 you can search through the records to find the exact date your relatives sailed into the Port of New York, as well as which ship they were on and whether they traveled with other family members.
If your family immigrated from the colonial period up to 1892 when Ellis Island opened, or after 1955, (when Ellis Island closed), the Peopling of America Center is made just for you. Phase I, the time before Ellis Island was built, has opened this year. Phase II – covering the time of 1955 to the present, is slated to open by the end of 2013. 
You can find a number of budget-friendly timeshare rentals in New York City.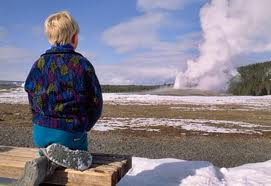 3. Yellowstone National Park. One of the most famous National Parks in the country, Yellowstone covers 3472 square miles and is home to more geothermal features – geysers (including the granddaddy of them all, Old Faithful), hot springs, and mud spots – than any other place on the planet. 
Kids ages 5 through teens will have fun becoming a Young Scientist at the Park. They'll do age-specific investigations of the many mysteries of the Yellowstone region. 


While pursuing their scientific investigations at Old Faithful they can borrow a Young Scientist Toolkit stocked with all sorts of fun things such as a magnifying glass, rock samples, a stopwatch to time Old Faithful, and even an infrared thermometer gun that takes reading of the thermal pools when pointed at the water. 
West Yellowstone, Montana, offers a number of great timeshare rentals. 
Read the entire Budget-Travel article. 
Photo Credit (Monticello): flickr.com 
Photo Credit (Ellis Island): colraindctrip2010.blogspot.com 
Photo Credit (Yellowstone): bing.com
Categorized in: Ellis Island, Monticello, New York City timeshare rentals, Thomas Jefferson, Washington DC timeshare rentals, West Yellowstone timeshare rentals, Yellowstone National Park