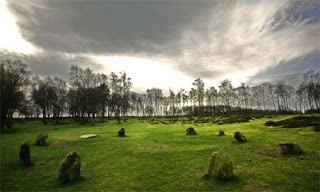 Whether you're planning your timeshare vacation to England during the next two weeks for the London Olympics, or later after all the hoopla when you can visit a quieter and more serene England, touring the National Parks is a way to get to know this country in a wonderfully intimate way.
Known as 'Britain's breathing spaces', currently 15 areas make up the National Parks of the UK, each looked after by Members, staff and volunteers. They incorporate mountains, meadows, moorland, woodland, coasts and wetlands. In England 10 areas have been designated as national parks, with 2 in Scotland and 3 in Wales. 
The Peak District (see photo above) was the first area designated as a National Park in 1951. Covering mainly North Derbyshire and South Pennines, it's visited by almost 22 million people each year, making it the second most visited National Park in the world. 
Known as Britain's magical waterland, the Broads take in Norfolk and Suffolk. It's the largest protected wetland in the UK and supports a wide range of wildlife in its shallow rivers and lakes. 
Dartmoor, at 368 square miles, is the wildest open area, with 450 miles of walking and cycling trails. Established in 1951, it was recently used as the setting for the blockbuster film, Warhorse.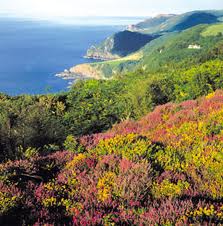 Exmoor (see photo left) in the south west of England covers 267 square miles of moorland and woodland with imposing cliffs that plunge into the Bristol Channel. It's an area of green valleys and farmland with cozy pubs and tearooms. 
England's most tranquil place, Northumberland with its dramatic hills and sheltered valleys became a National Park in 1956. From Hadrian's Wall to the Scottish borders it is a land of ancient hill forts and Roman ruins. 
North Yorkshire Moors cover a vast area of open moorland, with stunning landscapes and honey-coloured sandstone villages, historic abbeys and ancient castles. This area has been enthralling visitors since 1952. 
South Downs is the latest addition, designated in 2010. It has a biodiverse landscape with a mixture of bustling towns and villages and Winchester Cathedral as its focal point. 
Back in 1954, Yorkshire Dales joined the list of areas of outstanding beauty. With the backbone of England, the Pennines running straight through it, it is an area known for its spectacular waterfalls. 
Scotland's Cairngorms is Britain's largest park and includes 5 out of the 6 highest mountains in Scotland as well as the valleys of the Spey, Dee and Don.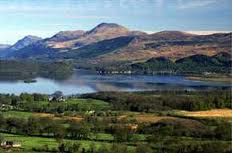 With rolling lowlands in the South and high mountains in the North, Loch Lomond and the Trossachs (see photo right) joined the National Parks in 2002. Ben More is the highest peak at 1,174 metres (3,850 ft.). 


Whichever part of the country you find yourself in, you will never be far from the beautiful National Parks of the UK. 


Take a look at the England timeshare rentals and Scotland timeshare exchanges available, and plan a National Park tour now. They make a great day trip from your timeshare.


Our guest author, Sue Wright, is an avid traveler and writer and has spent many years working with travel companies. For the past eight years she has been living and working in Cyprus. 


Photo Credit (top): europe.travelcontent.com 
Photo Credit (center): exmoor.co.uk
Photo Credit (bottom): aberfoyle.co.uk
Categorized in: England timeshare rentals, Loch Lomond and the Trossachs, National Parks of the UK, Peak District, Scotland timeshare exchanges, timeshare travel