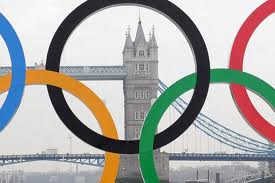 From around the world 10,500 Olympic athletes, 200 Olympic horses, and visitors galore have been pouring into Great Britain for the London Olympics 2012 Summer Games. 
And it all starts tonight with the eagerly anticipated Opening Ceremonies. Traditionally an Olympics opening ceremony is the most popular event of the games. It's not only a chance for the host country to welcome the rest of the world to its doorstep, but the ceremony also plays on the euphoria and excitement and heady anticipation of international competition.
Tonight's Opening Ceremony will feature one of the largest sets ever built as the Olympic Stadium (see photo below left) is transformed to reflect "the rolling British countryside," when 10,000 volunteers step in to recreate country scenes, complete with meadows, fields and rivers.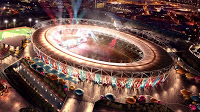 The set will feature families on picnics, sports being played on the village green and farmers tilling the soil while real farmyard animals graze – including 12 horses, 3 cows, 2 goats, 10 chickens, 10 ducks, 9 geese, 70 sheep, and 3 sheep dogs, all orchestrated by Artistic Director Danny Boyle.
Each of the four nations that make up Great Britain will be represented by their national flower – the rose of England, the thistle of Scotland, the daffodil of Wales, and flax from Northern Ireland.
Pop star Sir Paul McCartney and soccer star David Beckham are both confirmed in the line-up of participants.
Approximately 8.8 million people in 34 venues over 17 days are expected to attend the Games. VisitBritain hopes the Games will attract 4 million extra visitors to London, spending £2.3bn over the next four years. 
"The Olympics will have a global audience of billions." explains Christopher Rodrigues, chairman of VisitBritain. "We are working hard with international broadcasters from all our key source markets to make sure they capture all that is great about Britain and broadcast it around the world to inspire travel."
After the 2012 summer games have ended, London will continue to be a great destination for your timeshare vacation. The Olympic Games have been a catalyst for the physical transformation of a huge area of east London, much of which had been used by industry and landfill for centuries, and suffered years of contamination and neglect.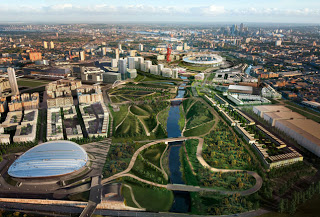 Olympic Park (see photo right) – to be renamed the Queen Elizabeth Olympic Park after the Games – will become a new focal point for the capital where visitors will enjoy beautiful new parklands and a wildlife spot in the middle of the city.
You'll find great timeshare rentals and timeshare exchanges throughout Great Britain, including England, Scotland, and Wales.
Photo Credit (top): mirror.co.uk
Photo Credit (center): london2012.net 
Photo Credit (bottom): magazine.fourseasons.com
Categorized in: England timeshare rentals, London Olympics 2012, Olympic Park, Olympics Opening Ceremony, Scotland timeshare exchanges, Wales timeshares