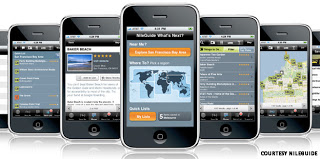 A fun way to enjoy a summer timeshare vacation "outside the box" is to actually stay in the middle of a big city. While others rush to the beach or mega theme parks, you can find amazing events, activities and sightseeing within just a few blocks of your city timeshare.
Are you one, though, who finds staying in a big city a bit daunting,especially if you don't have friends or family to show you around, or at least offer some suggestions? If you let that stop you you'll miss some wonderful memory-making vacation opportunities.
Enter "City Apps." This list of the Top 7 U.S. city-themed apps (well, 6 big cities and 1 wine country) – all designed to make your visit as easy as being a local – has been compiled by CNN.
1) Nashville Live Music Guide. Music City is known for being a place where you can discover the Next Big Thing in the music world on any given night, at any number of venues. This helps you find them. Compatible with: iOS; Android Market. Cost: Free
Check out Nashville timeshare rentals.
2) CabSense New York. By rating every street corner in the city, the GPS-based CabSense eliminates the guesswork involved in hailing a cab, and "makes you look good in the process, even if you can't whistle like a Manhattan doorman." Compatible with: iOS; Android Market. Cost: Free
Check out timeshare rentals in downtown New York City.
3) Visit Napa Valley. Put out by Napa Valley Tourism, this official guide helps vineyard-goers soak in the best of wine country, and includes choice spa and tasting information. Compatible with: iOS. Cost: Free
Check out Napa Valley timeshare rentals and near-by San Francisco timeshare rentals.
4) Beat The Traffic. Made with cities like Los Angeles in mind, this features real-time accident and construction reports, plus traffic camera images from more than 30 cities. The "speed dot" option allows drivers to gauge how fast cars are moving in a given location. Compatible with: iOSCost: Free
Check out California timeshare rentals.
5) Ness Dining Guide. An alternative to more popular options such as Urbanspoon and Open Table, Ness is the Pandora of restaurant apps. It builds up your "taste" for a place based on your likes, but it can also incorporate friend recommendations. Compatible with: iOS. Cost: Free
6) Scoutmob. Join the mob to avoid the mob. Consider this the ultimate bargain-finder — not only for exclusive deals at local retail businesses and restaurants, but also can't-miss city happenings. Compatible with: iOS; Android Market; Blackberry. Cost: Free *Available in: Atlanta, Austin, Boston, Chicago, Dallas, Denver, Los Angeles, Nashville, Portland, San Francisco, Seattle and Washington D.C.
Check out Boston timeshare rentals.
7) What's Next? "Tourists don't know where they've been," writes Paul Theroux, "travelers don't know where they're going." This app uses local expertise to provide you with dining, activity, or lodging suggestions but does so in a way that encourages spontaneity. Compatible with: iOS. Cost: Free
Check out Washington, DC area timeshare rentals.
Source: CNN.Go
Photo Credit: cnn.go.com
Categorized in: Boston timeshare rentals, Napa Valley timeshare rentals, Nashville timeshare rentals, New York City timeshare rentals, San Francisco timeshare rentals, timeshare vacation, travel apps