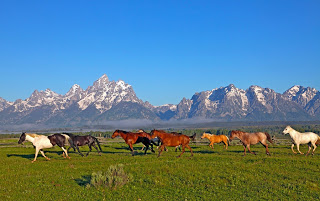 Wyoming is the embodiment of the great American West, and is a great timeshare vacation destination to "Cowboy Up." The state rightly bills itself as "Forever West," and if you're looking for a taste of the cowboy experience this summer, head to Jackson Hole at the foot of the spectacular Grand Tetons National Park, for the quintessential Jackson Hole Rodeo. 
Rodeo has been a part of Jackson Hole since the first settlers, led by Sylvester Wilson, arrived over the Teton Pass in 1890. Six generations later, the Wilson family continues the western heritage with the popular Jackson Hole Rodeo. 
The term 'rodeo' (from the Spanish, rodear) means "to surround" or "go around" in Spanish, and was first used in American English about 1834 to denote a "round up" of cattle The rodeo was not originally a sporting event, but an integral part of cattle-ranching. Many rodeo events are based on the real-life tasks required by cattle ranching in the west. 
Early rodeo-like affairs of the 1820s and 1830s were informal events with ranch hands testing their work skills against one another. Ranch-versus-ranch contests gradually sprang up, and eventually bronc riding, bull riding, and roping contests began to appear at race tracks, fairgrounds, and festivals. 
When you attend the Jackson Hole Rodeo you're taking part in over 100 years of true cowboy culture. The Rodeo is held every Wednesday and Saturday through the summer from Memorial Day to Labor Day, rain or shine.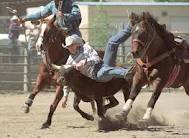 The Jackson Hole Rodeo offers all the favorite events including Barrel Racing, Calf Roping, Bull Riding, Saddle Bronc Riding, Bareback Bronc Riding. And just for kids: Calf Scramble, Miniature Bull Riding and Sheep Riding. 
Unlike the larger gatherings in other parts of the West, the Jackson Hole Rodeo maintains its local, "anyone who has the gumption can do it" attitude that makes it representative of both the community and the original intention of the sport. 
"We're noted for fine stock, young cowboys coming up through the ranks, and people who just love it. It's a great choice for action-packed fun during summer nights in Jackson Hole," says Phil Wilson. 
Photo Credit (top): Darryl L. Hunter theholepicture.pictureshelter.com 
Photo Credit (bottom): mountainlifestyles.tripod.com
Categorized in: Grand Tetons National Park, Jackson Hole Rodeo, Jackson timeshare rentals, timeshare vacation