Trastevere – Neighborhood of Rome, Creator of Spaghetti Carbonara (see Bonus Recipe below!)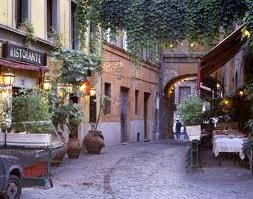 Travestere is a colorful Roman neighborhood distinctly characterized by its medieval beauty and artistic ambiance. To many Romans, the hum-drum description of "neighborhood" is a misrepresentation of this charmingly eclectic "city within a city"— an endearment with which enthusiasts have crowned this Roman gem.
Travestere is a unique fusion of old world charm and contemporary culture that has blossomed into a rare, inimitable flower. Travestere literally means "across the river," and it is separated from Rome's city center by the Tiber River.
For many centuries, this geographical separation mirrored the cultural and social dichotomy of traditional Rome's working immigrant class and the aristocratic elite. Travestere was an immigrant development of little interest to the rest of Rome. Consequently, it was able to develop and maintain its own cultural map of tradition, cuisine, dialect, and even architecture. Travestere remains one of the only pockets of Rome that has retained its medieval architecture.
The neighborhood's historical cuisine was characterized by its tear-inducing, spicy ingredients that were as loud and boisterous as the neighborhood dialect. Of course, Travestere's anomalous cultural coloring and mainstream resistant cuisine were under-appreciated for centuries, but have since emerged as Roman delicacy – a true testament of the experiential and artistic aesthetics that tourists and citizens can't get enough of.
Trastevere is known as a bohemian's paradise with art galleries and novel boutiques selling specialty items ranging from vintage trend shoes to one-hundred year old bottles of balsamic vinegar. Travestere has charmed many an onlooker with its closeted squares, hidden coffee bar nooks, and infamous pizzerias. There are as many pizzerias and as there are coffee shops in Travestere.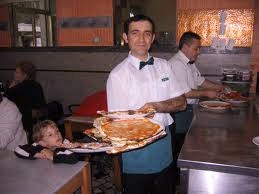 The pizzas are homemade with fresh ingredients usually gathered that same day. Many pizzerias prepare their food with recipes that have been meticulously passed down through family generations, using Italian specialty ingredients like capers, pesto, olives, and carefully concocted tomato sauces. The pizzas are slowly cooked to perfection in the heart of a traditional brick oven and then ready to serve.
Travestere is often called the district that "never sleeps." Its urban, chic nightclubs and its traditional street entertainment that assembles in Piazza di Santa Maria, are lively and active throughout the night and wee hours of the morning.
The Piazza di Santa Maria lies in the heart of Travestere. It houses the basilica of Santa Maria which is one of the oldest churches in Rome, built in 300 A.D. The Piazza di Santa Maria is bordered with bright, welcoming cafes and restaurants that offer irresistible meals and picturesque views of the bustling piazza.
Check out available timeshare rentals in Italy.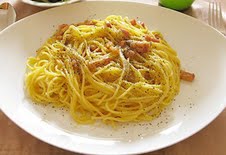 Bonus Recipe
Either in your Italian timeshare kitchen, or at home, you can have your own taste of Trastevere with this easy-to-prepare recipe. Practically 'born in' the Osterie of Trastevere, the Spaghetti Carbonara dish has gained fame worldwide thanks to its simplicity. It has 2 main ingredients besides pasta- eggs and bacon (pancetta). Spaghetti and rigatoni are the types of pastas used for this dish.
Spaghetti Carbonara 
Excerpted from the Gourmand World Award Winning book The Basic Art of Italian Cooking: Holidays & Special Occasions-2nd edition 
1 lb spaghetti
1 garlic clove
2 ounces bacon or pancetta
2 eggs
1/3 cup pecorino romano cheese grated
handful fresh parsley
extra virgin olive oil
pepper and salt
Cut bacon into thin stick like pieces. Place 1 tablespoon extra virgin olive oil in saucepan with garlic that has been peeled and 'smashed. Saute till bacon is golden, remove garlic.
Cook pasta till al dente. Drain.
In a bowl, break eggs, and beat with fork, add in 1 tablespoon of pecorino cheese, pinch of salt, freshly grated black pepper.
Place drained pasta in saute pan with bacon, place over low heat.
Pour in beaten eggs, toss in pan till eggs are cooked.
Serve with washed ,chopped parsley, freshly grated pecorino-romano cheese.
Thank you to our guest author, Celebrity Chef Maria Liberati, who writes the Gourmand World Award-winning book series The Basic Art of Italian Cooking and is Executive Editor of The Basic Art of Italian Cooking by Maria Liberati™ blog at www.marialiberati.com as well as creator of The Basic Art of Italian Cooking by Maria Liberati trademark. She is considered one of the foremost experts on Italian cuisine and culture.
Photo Credit (top): concierge.com
Photo Credit (bottom): thepinesofrome.blogspot.com
Photo Credit (recipe): cucina-doki.it [7]
Categorized in: Italian Cooking, Italy timeshare rentals, Rome, Spaghetti Carbonara, Tiber River, timeshare travel Travestere