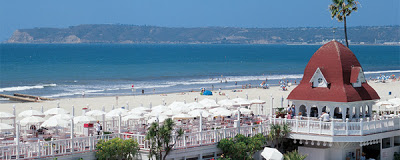 Take a timeshare rental vacation to the Best Beach in the U.S. Stephen P. Leatherman, professor at Florida International University and known as "Dr. Beach," has named Coronado Beach at San Diego the Number 1 beach in the country for 2012.
One of the reasons is the Coronado Beach sand contains mineral mica, causing it to sparkle like gold.
"I think it's one of the most super beaches around," said Leatherman, director of FIU's Laboratory for Coastal Research.
Coronado Beach sits on a peninsula across the bay from San Diego. The town of Coronado has easy access to the mainland and San Diego by way of the Coronado Bay Bridge that gracefully arches cross San Diego Harbor.
Leatherman ranks beaches on 50 criteria, including the look and feel of the sand, water quality, weather, facilities and crowds. A top score is 250. Coronado came in the 230s, losing points because the water temperature is generally only in the 60s.
Leatherman said Coronado Beach is great for skim boarding (gliding on the water with a small, finless surfboard) and walking. The wide, flat beach is lined by majestic mansions and the Hotel del Coronado. Known as "Hotel Del," the National Historic Landmark with its peaked red roof was built in 1888 and is the last of California's Victorian seaside resorts.
Besides having sand perfect for molding sand castles, and offering a panoramic view of spectacular sunsets, the Coronado Beach also gives you a front-row seat for viewing U.S. Navy shipping activity including aircraft carriers and submarines, coming and going from San Diego Harbor.
The top 10 list is in its 22nd year. Beaches do not pay to be evaluated for the top 10 best beaches list. Leatherman visits top 10 candidates incognito to collect sand and water samples for study. A No. 1 spot on the popular list typically brings a 15-to-20-percent boost in visitors.
2012 Top 10 Beaches in the U.S. by Dr. Beach 
1. Coronado Beach near San Diego, CA
2. Kahanamoku Beach in Waikiki, Honolulu, Hawaii
3. Main Beach, East Hampton, NY
4. St. George Island State Park, Florida Panhandle
5. Hamoa Beach, Maui, Hawaii
6. Coast Guard Beach, Cape Cod, MA
7. Waimanalo Bay Beach Park, Oahu, Hawaii
8. Cape Florida State Park near Miami, FL
9. Beachwalker Park, Kiawah Island, SC
10. Cape Hatteras, NC
There are many San Diego area timeshare rentals available. Or stay right in Coronado at the Coronado Beach Resort where timeshare rentals start at just $114/night.


Photo Credit: travelmuse.com
Categorized in: Coronado Beach, Coronado Beach Resort, Dr. Beach 2012 list; 2012 Best Beach in the U.S., san diego harbor, San Diego timeshare rentals, timeshare rentals, timeshare vacation