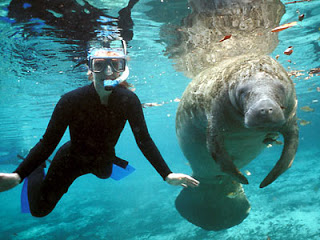 Timeshare vacations can be at the beach, riding roller coasters, hiking through a National Park, or even the special experience of swimming with dolphins. How about something a little different? Take one step out of the box, and swim with manatees.
Crystal River, FL, just an hour's drive from Tampa Bay, is the "Home of the Manatee." The town is situated around King's Bay, on Florida's "Nature Coast" (formally known as Florida's Big Bend).
King's Bay connects to the Gulf of Mexico via the Crystal River. Manatees are attracted to its constant 72-degree (F) temperature which is due to the cluster of 50 springs that feed King's Bay.
Kings Bay is home to over 400 manatees and is the only place in the United States where people can legally interact with them in their natural conditions without that interaction being viewed as harassment by law enforcement agencies. However, approaching a manatee in such a way as to cause a change in its behavior is considered illegal harassment.
The majority of the Crystal River manatees will be found here during the winter months when the waters of the Gulf cool. Since manatees cannot survive in water temperatures below 68 degrees (F), King's Bay is ideal for a winter's stay.
While in the Crystal River area include be sure to head to the Crystal River Preserve State Park, a Florida State Park that contains 30,000 acres of undisturbed islands, inlets, backwaters, and forests. While no manatees are in this park, many other wildlife species can be seen. The visitor center houses 6 dioramas, three aquariums, 2 snake exhibits, a diamondback terrapin enclosure, and a fun "touch table."
Another fascinating activity is exploring the Crystal River State Archaeological Site. Under the title of Crystal River Indian Mounds, it is also a U.S. National Historic Landmark. Two large platform mounds are believed to have been used primarily for ceremonial purposes. A half-mile paved loop trail passes by each mound, with signs interpreting the mounds.
Greater Tampa/St. Petersburg  timeshare rentals start as low as $107/night. Then take the quick drive over to Crystal River and enjoy the opportunity of a lifetime swimming with gentle, intelligent manatees.
Photo Credit: sightseeingworld.com
Categorized in: Crystal River, Crystal River Indian Mounds, Crystal River Preserve State Park, Crystal River State Archaeological Site, swimming with manatees, timeshare rentals, timeshare vacation