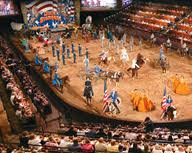 Choosing top attractions in Branson is like trying to choose your favorite sweets in a floor-to-ceiling candy shop. Branson is so chocked full of all different kinds of things to see and do that it's no wonder it's become one of the most popular vacation destinations in the world.
"Nestled in the lakeside beauty of the Ozark Mountains, Branson is America's affordable, wholesome family entertainment capital that emphasizes fun, comfort and the feeling of being right at home."
From live stage shows to exploring caverns and caves to riding roller coasters named Wildfire and Powder Keg, there's plenty of fun for everyone. The three top attractions listed here are chosen for their wide range of appeal.
1. Dixie Stampede Musical Rodeo (see top photo). Dixie Stampede is a four-course dinner and performance combination. This show has a rodeo feel to it, and features horses and buffaloes, stunt riders, magicians, racers and interactive fun. It's filled with friendly North and South competition, thrilling horseback riding stunts, spectacular special effects including pyrotechnics, and moving musical productions.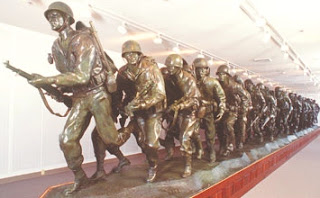 2. Veteran's War Memorial Museum. A powerful emotional experience awaits you when you explore the ten rooms filled with exhibits saluting the brave men and women who fought for the United States in 20th Century wars and conflicts. Especially moving are the letters and special momentos of the service men and women, which tell their individual stories and bring each soldier to life.
The world's largest war memorial bronze sculpture (over 70 feet long, weighing 15-tons) is the hallmark of the museum and features 50 life-size statues storming a beach. The life-size figures were modeled after a combat soldier from each of the 50 states.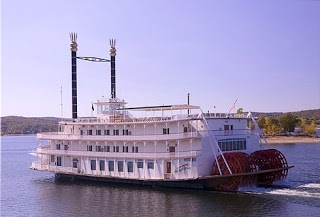 3. Showboat Branson Belle. A 700-seat paddle wheel riverboat makes its home at White River Landing in Branson and features cruises on Table Rock Lake, either lunch or dinner and a Broadway style show. This is a chance to enjoy the outdoors as the Ozarks are meant to be enjoyed, while at the same time experiencing great entertainment.
The boat has large windows on all three interior decks of the theater. You can also explore a few smaller lounge areas, and the exterior promenades and outer decks of the ship which also provide great views of Table Rock Lake and the Ozark mountains. 
Branson timeshare rentals are available in all sizes and price ranges. For example, at the Grand Crowne Resort you can rent a one-bedroom timeshare for just $50/night. Or, rent a larger timeshare for just $157/night and sleep eight!
All photos courtesy: branson.com
Categorized in: Branson timeshare rentals, Branson Veteran's War Memorial Museum, Dixie Stampede Musical Rodeo, Grand Crowne Resort, Ozarks, Showboat Branson Belle, Table Lake, timeshare vacation