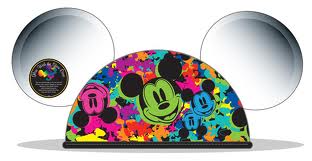 With the grand re-opening of much of Disney's California Adventure Park this summer, there seems to be a surprise around every corner. Plan a timeshare rental vacation and check out the new World of Color. The surprise is that You can actually participate in the show – with your Glow with the Show Mickey Mouse Ears!
Disney has released a new video that explains how the Glow with the Show ears are synchronized with live shows. The ears are designed to add an extra dimension to performances of the park's most popular entertainment offerings. The ears literally "Glow with the Show," lighting up in time with key moments during World of Color and other crowd favorites.
In the video Principal Technical Director for World of Color Chuck Davis explains how the ears operate. For example, commands are sent to the ears via infrared, with the show's viewing area being divided into 40 distinct zones. Each of these zones is able to receive unique commands, while the individual ears also receive commands via their serial numbers.
Synchronize yourself with Disney fun by staying in a budget-friendly Anaheim timeshare rental. For example, at the Dolphin's Cove Resort, less than a mile from Disneyland, you can stay in your own condo-like accommodations with a separate bedroom and a full-sized kitchen for only $93/night.
Or choose the Peacock Suites Resort, also less than a mile from Disneyland, where you can sleep 6 for just $86/night.
Categorized in: Anaheim timeshare rentals, California Adventure Park, Disney's Glow with the Show, Disneyland, Dolphin's Cove Resort, Peacock Suites Resort, timeshare rentals, timeshare vacation