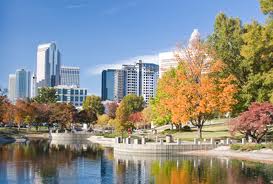 The National Democratic Convention is currently underway in Charlotte, North Carolina. Located in the Carolina Piedmont, a beautiful wide plateau between the Atlantic Ocean and the rising of the Appalachian Mountains, Charlotte (see photo) is North Carolina's largest city. The city is home to the NFL Carolina Panthers, and is also the second largest financial center in the U.S. by assets, following New York City.
The real destination in North Carolina for popular vacationing, however, is the Outer Banks. The Outer Banks consist of a string of barrier islands off North Carolina's Atlantic Coast, that have a perfect temperate climate for enjoying a wide expanse of beachfront.
The islands of the Outer Banks are known for more than beautiful beach scenery. Kill Devil Hills is where the Wright Brothers first flew their powered, heavier-than-air vehicle, near the seaside town of Kitty Hawk. The Wright Brothers National Memorial consists of a monument tower and a Visitor's Center with a museum exhibiting models and actual tools and machines used by the Wright Brothers.
You can also walk through the field over which four historic flights took place. Watch for small monuments that mark each flight's start and finish. Two wooden sheds recreate the world's first airplane hangers.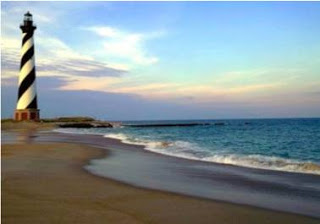 At the Cape Hatteras National Seashore you can spend time on the beach, or climb the lighthouse. The Cape Hatteras Lighthouse (see photo) is one of the most iconic lighthouses in the U.S. It stands guard over waters so treacherous that the area is now known as the Graveyard of the Atlantic due to the many shipwrecks that have occurred here.
The Cape Hatteras National Seashore is also along the Atlantic Flyway – serving as major resting and feeding grounds for migratory birds. Every autumn you can see ducks, geese, hawks and eagles among other migratory birds, as they make their way south for the winter. One of the passing star attractions here is the beautiful Snow Goose.
Enjoy a budget-friendly vacation by renting a timeshare on North Carolina's Outer Banks. For example, the High Dunes Resort on Kill Devil Hills has timeshare rentals starting at just $71/night. The fishing in this area is superb. Ten miles from the resort is Oregon Inlet, the "Blue Marlin Capital of the World."
On Bogue Banks island Atlantic Beach offers a number of timeshare rentals. The Peppertree Atlantic Beach resort has timeshare rentals starting at $75/night. Atlantic Beach is known for expansive public beaches, and for Fort Macon State Park, the second most-visited State Park in North Carolina. Here you can tour Fort Macon where a major Civil War battle was fought in 1862.
North Carolina is a beautiful state worth your look when planning a timeshare rental vacation the entire family will enjoy.
Photo Credit (Charlotte): abvicharlotte.com
Photo Credit (lighthouse): bunthorne.blogspot.com
Categorized in: Charlotte North Carolina, Fort Macon, High Dunes Resort, National Democratic Convention 2012, Peppertree Atlantic Beach, timeshare rentals, timeshare vacation, Wright Brothers