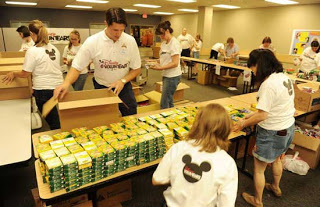 The Walt Disney World Resort donated a record 3.1 million school supplies and Disney VoluntEARS created over 13,000 stuffed back packs for Central Florida students in need.
School bus loads of school essentials were presented by Mickey Mouse and his pals to school superintendents. Orange County Superintendent Dr. Barbara Jenkins, Osceola County Superintendent Melba Luciano, Lake County Superintendent Dr. Susan Moxley, Seminole County Superintendent Walt Griffin, and Polk County Superintendent Dr. Sherrie B. Nickell were all on hand to accept the donations and ring a bell celebrating the new school year.
 
 On a mission to set students up for success Walt Disney World Resort Cast Members spent 2,300 hours during August collecting and sorting pencils, notebooks, rulers and more – all as part of the annual Back-to-School Supply Drive. It's one of the many ways Disney shows its support of education and children in Central Florida.
When it's time to take your kids to Walt Disney World for a well-deserved school break, plan to stay in a budget-friendly Disney timeshare rental. Throughout Greater Orlando timeshare rentals are also very affordable for family vacations.
Categorized in: Back-to-School, Disney timeshare rentals, Disney VoluntEARS, Greater Orlando timeshare rentals, Walt Disney World Resort