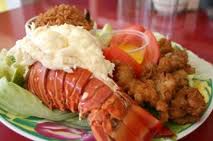 When you are on a Caribbean timeshare vacation, food is a major part of the exotic experience. The Bahamas offers a variety of international, home-cooked and traditional cuisines which are found all over the islands.
These dishes are served in restaurants, hotels and resorts from casual to a fine dinning atmosphere. Almost every type of cuisine is served in popular restaurants such as Mexican, Continental, Asian, and even Greek dishes, but of course it is worth to try their local dishes as well.
Dining in restaurants that offer traditional cuisines can surely satisfy the senses of tourists who love seafood and spices, although these may also depend on where you dine and your food preferences. Most restaurants are versatile in the traveler's personal taste. They can lessen the spices of the dishes, if requested. The specialty cuisines usually come with a well prepared and seasoned soups and sauces.
Here are some of the Bahamian cuisines that are found throughout the archipelago: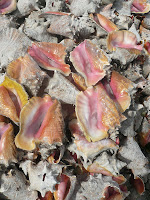 1. One of the most popular seafood in the Bahamas is the Conch (pronounced as "konk"). Conch is a sea mollusk or shellfish. Many people know the beautiful Conch shell (see photo left). The meat is similar to an oyster but it is not slimy and is white and firm. It is prepared in a variety of ways like steamed, uncooked, stewed, mixed in salads, and also deep fried with fritters, which they call "cracked conch." They also use it in soups like the Conch Chowder.
2. One of the favorite local breakfasts is the boiled fish and grits. The favorite fish used when boiling is the Grouper. The locals are skilled in cooking this fish and they make sure that the meat is tender and flavorful. They also include boiled fish as a side dish in stews.
3. The Bahamian rock lobster is also popular (see top photo), used in stews, soups and salads. This is usually broiled with citrus juices and spices.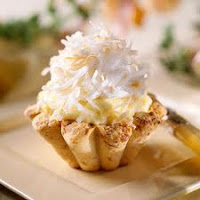 4. Coconut is used in most deserts served in the island and it is part of the diet of the locals. This is due to the numerous coconut trees found throughout the islands, which tourists will notice as they tour around the Bahamas. The fruit is commonly served as pies, custards, coconut cream tarts (see photo right), cakes, pudding, and even as ice cream.
5. Never miss a chance to try their exclusive cocktails and drinks when dining in bars and restaurants. Favorite cocktails are the Pina Colada and Rum Punch. You must also try their national beer, Kalik, considered a "national treasure" and a reflection of the Bahamian culture. Fresh fruit juices are also popular drinks and are often served with meals.
Timeshare rentals in the Bahamas are budget friendly, and can be as low as $68/night. Your timeshare kitchen gives you the opportunity to prepare "at home" some of your favorite foods of the Bahamas.
Our guest author, Will, is the owner and editor of Tourist Spots a website covering a large variety of tourist destinations such as Palau, Austria and Sudan. If you are looking for exotic places to plan your vacation be sure to check out this list of Top Tourist Spots in the World.
Photo Credit (rock lobster): worldwidewebawards.net
Photo Credit (conch): vanishingtattoo.blogspot.com
Photo Credit (coconut): southernliving.com
Categorized in: Bahamas beer, Bahamas cuisine, Bahamas food, Bahamas timeshare rentals, Caribbean timeshare vacation, rum punch, timeshare vacation