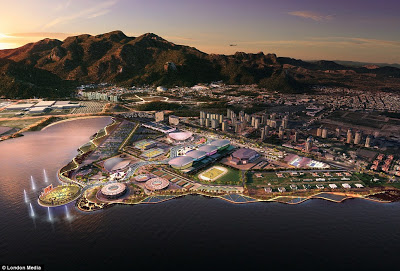 "The world's eyes will turn to us right after the closing of the London Games," Jose Peixoto, Observer Program chief said at the beginning of the London Olympics 2012. "It's very important that we learn from London's experience."
Prior to London's Closing Ceremony when Rio de Janeiro Mayor Eduardo Paes received the official Olympic flag from London's mayor Boris Johnson, a team of 152 Rio staff members had participated in the IOC's (International Olympic Committee) Observer Program, designed to help the next Olympic hosts with their 2016 Summer Games preparations.
Rio de Janeiro won the bid for the XXXI Olympic Summer Games in 2016 after beating out the three other finalists of Chicago, Madrid, and Tokyo, to become the first South American city and the first Portuguese-speaking country to host the Olympics.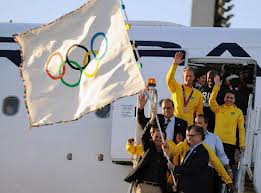 The Olympic flag's triumphant arrival in Rio de Janeiro marked the official start of Rio's Olympic preparations. The city will undertake nearly 200 projects to construct sports venues and other infrastructure during the next four years.
This week it was announced that Studio Aecom had unveiled the first renderings of the Rio de Janeiro Olympic Park (see top photo). The Park will be built in a striking triangular layout spread over 300 acres, 
The London-based architects won the contract for the site, which will form the centre point of the 2016 Olympic Games. Located in the Rio neighborhood of Barra da Tijuca, the park will be on the site of the former grand prix track. The venue will host the majority of the Olympic and Paralympic sports in a total of 34 venues. Some 18 of the venues are in operation already.
"We will show off the best of Brazilian architecture in a magnificent setting," said Bill Hanway of Studio Aecom, which also designed the London Olympic park.
"It will be the first Olympics in South America and Rio is the most beautiful city in the world. We have tried to reflect the beauty and spirit of the place in our master plan," said Hanway.
The main Olympic stadium will be the famous Maracanã, which will be redeveloped in time for the FIFA World Cup in 2014.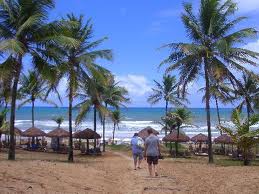 While officials and workers begin the task of creating Rio's Olympic Park, you can take advantage of the many timeshare exchanges available at the Grand Palladium Imbassai Resort and Spa (see photo right) in Mata de Sao Joao, to practice your Portuguese.
Located on the tropical Atlantic coast in the Brazilian state of Bahia, this popular resort is actually within the Imbassai Nature Reserve where you will "discover the delights of staying in an uncommonly luxurious resort at the edge of the water, surrounded by coconut groves and winding rivers."
Photo Credit (top): dailymail.co.uk
Photo Credit (center): deccanchronicle.com
Photo Credit (bottom): tripadvisor.com
Categorized in: 2016 Olympics, 2016 Paralympic Games, FIFA World Cup 2014, Grand Palladium Imbassai Resort and Spa, Olympic Flag, Rio de Janeiro, Rio's Olympic Park, Studio Aecom, Timeshare Exchange, timeshare travel