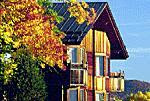 It's Autumn – and time to take a timeshare vacation to enjoy nature's brilliant artist's palate of color. What better place for everything that autumn has to offer than New England? And where in New England? Vermont! And where in Vermont? Stowe has it all.
Stowe is home, in particular, to the Trapp Family Lodge. The "Sound of Music" award-winning Broadway play and movie made them famous. Now the 3rd generation of the singing Von Trapp Family is carrying on the tradition of European-style hospitality. Their unique luxury mountain resort is of Austrian-inspired architecture, and offers activities for ever y season.
Autumn is a favorite time at the Trapp Family Lodge. Rent a timeshare and explore the resort's 2700 acres of mountain views and wooded paths.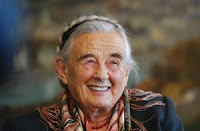 And be sure to say Happy Birthday to Maria Franziska Von Trapp – this second-oldest daughter of "The Captain," and step-daughter of Maria, just celebrated her 96th birthday on September 28. Maria, portrayed as "Louisa" in the play and film, was a member of the original Von Trapp Family Singers, and is the last surviving member of that original group.
The Trapp Family Lodge is run today by Johannes Von Trapp and his son, Sam. Johannes is the Captain's and Maria's youngest child and was born in Philadelphia.
Johannes has established the Trapp Family Lodge as one of the country's premier cross-country ski resorts, with 28 miles of groomed trails 62 miles of un-groomed trails throughout the resort property.
In 2010, the Lodge began to brew beer, producing approximately 60,000 US gallons (230,000 l; 50,000 imp gal) annually. The brewery produces traditional German and Austrian style lagers. The beers are sold on-site, as well as at restaurants and bars throughout Vermont.
As Johann is proud to say," This really is a place where the grass is greener, the snow is more pristine and the autumn is more brilliant. Where the sights of nature and the sound of music create a vivid symphony for the senses."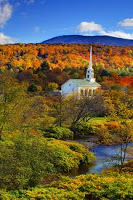 In the quaint 200-year old town of Stowe (see photo right) amidst spectacular autumn foliage you can visit antique shops, do a wine tasting, stroll through art galleries, and attend apple and pumpkin festivals.
You'll enjoy your timeshare vacation at the Trapp Family Lodge by hiking through the woods, taking an old-fashioned horse-drawn carriage ride, or playing tennis in the warm autumn sunshine.
Photo Credit (top): trappfamilylodge.com
Photo Credit (center): mindfood.com
Photo Credit (bottom): photocascadia.com
Categorized in: Autumn foliage, Stowe, timeshare rentals, timeshare travel, timeshare vacation, Trapp Family Lodge, Vermont