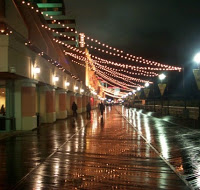 October is such a changeable month, and fall weather just can't seem to make up its mind. Wet, dry? Warm, cold? So, you plan a timeshare vacation to a popular beach destination in October to avoid the summer crowds, but what happens if it just isn't beach weather?
Well, Atlantic City has you covered. If you do get a pretty beach day, enjoy this resort city's famous boardwalk that takes you across soft sand and along the shores of the Atlantic Ocean.
And with all of the fun indoor activities Atlantic City offers, you might just find yourself hoping for the wet and the cold. Most people don't really need a weather excuse to visit the many casinos that Atlantic City is famous for. From the Trump Taj Mahal to the Tropicana to the Showboat there's plenty of fun and all sorts of gaming.
And don't pass up some surprisingly different activities that Atlantic City also offers.
1. The Down Beach Film Festival is held in Atlantic City every October.  Celebrating the art of film making the festival showcases feature films as well as shorts and documentaries, and every year honors a specific filmmaker. This year legendary filmmaker Robert Downey, Sr., will screen his classic film "Putney Swope," at the Showboat on opening night, Friday, October 12, 2012.
2. Evenings of Art is held every Wednesday.  This is a chance to enjoy original artwork and meet the artists themselves. A bonus is the complimentary refreshments offered amid wonderful ambience at the century old Carisbrooke Inn Bed and Breakfast.
3. The Boardwalk Hall Organ Tours offers a unique experience. If you are prepared for a 2-hour tour that involves extensive walking, stair climbing and maneuvering in tight spaces (unfortunately this tour is not handicap accessible), you'll find yourself getting up close and personal with two magnificent pipe organs.
Housed in Boardwalk Hall, the Main Auditorium organ is the world's largest pipe organ.  It takes fully eight chambers to accommodate all of the pipes for this giant organ.  The second organ on the tour, the Ballroom organ, was considered a revolutionary design at the time it was built by Kimball. Included among its 4.000 pipes is the first brass stop as well as then un-heard of winds and percussion.
World famous Atlantic City is a perfect getaway for retirees. Whether you plan to gamble at luxury casinos, relax on sandy beaches, play near-by golf courses, or explore the many other fun activities, enjoy it all from the comfort of your own rented timeshare. 
For budget-friendly accommodations in what can otherwise be an expensive city, an
Atlantic City timeshare rental
will not only save you the cost of hotels, but spacious rooms, a fully-equipped kitchen, and resort amenities are all included in the price.
For example, currently you can stay at the
Atlantic Palace
for just $41/night. For that price who cares what the autumn weather is doing?
Photo Credit: traveling-with-teens.com
Categorized in: Atlantic City timeshare rental, Atlantic Palace resort; Atlantic City Boardwalk, timeshare rental, timeshare travel