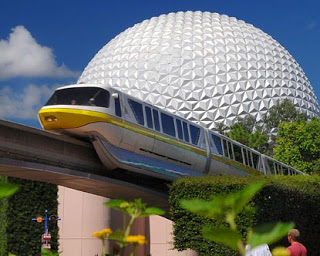 During the month of October Walt Disney World's EPCOT is celebrating its 30th Anniversary. Take a timeshare vacation to Orlando and join in the fun!
EPCOT's official birthday is October 1, the day the gates opened in 1982 to a unique theme park that only Walt Disney could dream up. EPCOT, which stands for Experimental Prototype Community of Tomorrow, was intended by Walt Disney to be just that. He envisioned the ideal city of tomorrow to be built in Central Florida.
This model community would house 20,000 residents, and showcase visionary urban planning ideas. Unfortunately, Disney died before full permission for his grand plan could be obtained from local and state governmental agencies.
When the Disney Imagineers began to design a theme park around Walt's original concepts, they felt that the park should not only celebrate futuristic advancements, but spotlight world cultures as well.
Over the years EPCOT has evolved into more than just a unique theme park. Represented by what has now become the iconic geodesic sphere Spaceship Earth, EPCOT not only has two distinct areas, and now also offers exciting shopping, world-class dining, and major festivals.
1. Future World. Here technology is celebrated as a variety of pavilions exhibit innovation, application, and futuristic concepts. Even Spaceship Earth is an attraction (see top photo), a 13-minute ride through the 18-story sphere on an exciting "time machine."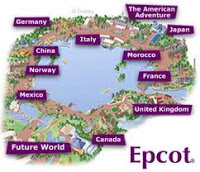 2. World Showcase. International culture is the focal point here, with pavilions representing eleven countries. Each pavilion has exhibits and restaurants representative of the country's culture, and all are staffed by nationals through the Cultural Representative Program.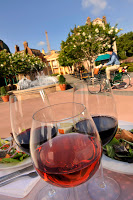 3. Festivals. Annual major festivals include the Epcot International Flower and Garden Festival held each spring (the 2013 festival is scheduled for March 6 – May 19); the Epcot International Food and Wine Festival (see photo right) held every fall (currently underway until November 12,2012), and the Candlelight Processional, a celebrity-hosted holiday event.
Choose a timeshare rental in Orlando, or even a Disney timeshare rental, and enjoy a budget-friendly family vacation to EPCOT.
If you weren't able to make it for the October 1 festivities, you can see the celebration with speakers and musical entertainment below:
Photo Credit (top) destination360.com
Photo Credit (center): wdwvacationplanning.com
Photo Credit (bottom): diszine.com
Categorized in: Disney timeshare rental, Epcot, EPCOT's Future World, EPCOT's International Food and Wine Festival, EPCOT's World Showcase, timeshare rental in Orlando, Walt Disney World