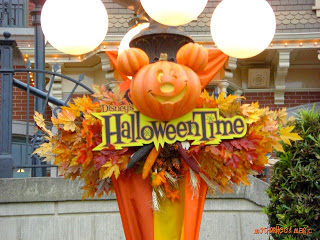 Christmas lights, icicles, a sleigh over-flowing with presents…What? Well, you might say it's already Christmas at Disneyland, too! When you combine the two holidays as only Tim Burton's "The Nightmare Before Christmas" and Disneyland's Haunted Mansion can – you get a one-of -a kind Halloween timeshare vacation.
Here are some fun facts about Disneyland's Haunted Mansion Halloween Holiday:
More than 400 flickering candles create the Mansion's eerie nighttime glow.
More than 100 jack-o-lanterns illuminate the exterior. 7,500 feet of fresh snow is used each year.
At night, several guests have been able to spot Zero protecting the Manson. 
All the iconic black ravens that appear throughout the original Haunted Mansion experience have been replaced by Vampire Teddies except for one – can you discover which?
In the attic of Haunted Mansion Holiday, a snake devours a holiday list featuring the names of many of the cast members who helped create the attraction. 
This year's gingerbread confection ,"Jack's House" – the holiday centerpiece on the table in the Ballroom – stands 9 feet tall, making it the tallest gingerbread house ever presented in the attraction. 
 Take a look at how Disney Imagineers create the remarkable Haunted Mansion transformation for this:Holiday Event: 
The entire Disneyland Park is in on the Halloween celebration. Here are some more fun facts –
The props and sets used in window displays along Main Street, U.S.A., are reproductions of original turn-of-the-century Halloween décor.
And did you know that there are more than 300 sculpted pumpkins on Main Street, U.S.A.? Look closely – no two are alike.
Staying in an Anaheim timeshare rental makes your family's Disneyland Halloween adventure a budget-friendly vacation. For example, this October you can rent a timeshare at the Peacock Suites Resort, just a mile from Disneyland, for only $86/night.
Source: Disney Parks Blog
Photo Credit: themagicofthemouse.blogspot.com
Categorized in: Anaheim timeshare rental, Disney Halloween Time, Disney Haunted Mansion, Disneyland, Peacock Suites Resort, timeshare rental, timeshare vacation