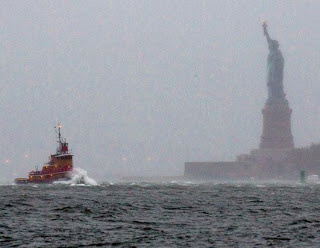 If you had been planning a timeshare vacation to New York City to visit the Statue of Liberty you may have to postpone your plans.
For an entire year the Statue of Liberty's interior has been closed to visitors while new staircases and a new elevator were installed as part of a $27 million renovation to improve the fire and security systems. Lady Liberty was officially reopened on October 28, celebrating her 126th birthday. 
Then Hurricane Sandy hit.
And for the time being the Statue of Liberty is closed – again.
The Statue has had a series of closures over the past 11 years, starting when the federal government shuttered her for three years following the terrorist attack on Sept. 11, 2001. Her pedestal reopened in 2004 and on July 4, 2009 her crown reopened. The entire statue closed again on Oct. 29, 2011.
This most recent renovation has revealed "a ton of surprises" about the statue's history. Workers discovered, for example, a large concrete room where the military stored munitions during the time that the island was Fort Hood. A photographic exhibit of the renovation and the previous renovation in 1986 will be on display on Liberty Island.
The reopening last week was to great fanfare, and allowed visitors to climb the 393 stairs to the crown again, giving better access to the crown and its panoramic views of the New York City skyline and the New Jersey shore.
Other upgrades included new granite staircases outside the monument, upgrades to the pedestal elevators and wheelchair access to the observation decks.
Parks officials had expected about 13,000 visitors to scale the new stairs to the crown in the last two months of this year – with all the tickets for a 2012 trip sold out before the statue was reopened.
Following Sandy a quick examination showed no damage to the statue itself, but a team of federal inspectors are due to conduct a full assessment of any possible infrastructure problems.
Meanwhile, the passenger terminal for the ferry that takes riders to the Statue of Liberty was in shambles from the superstorm.
Hurricane Sandy may have wrecked some havoc on the Big Apple, but New Yorkers are a tough breed, and it won't be long before this great city is back on its feet. So go ahead and plan a timeshare rental vacation in New York City – you'll be glad you did!
Photo Credit: Associated Press
Categorized in: Hurricane Sandy, New York City, New York City timeshare rentals, Statue of Liberty, superstorm, timeshare rental, timeshare vacation