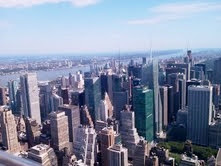 View from the 86th Floor Observation Deck of The Empire State Building, looking NW up the Hudson River. Submitted by Chase Repta, Champaign, IL.
The Empire State Building was the tallest building in the world for 40 years, from when it was completed in 1931 until the World Trade Center was built in the 1970s.
Located in downtown Manhattan, the building soars a quarter of a mile straight up. The 86th Floor Observatory offers panoramic views, andon a clear day you can see to New Jersey, Connecticut, Massachusetts, Pennsylvania and Delaware.
Find out how affordable a vacation in Manhattan can be when you stay in a New York City timeshare rental.
Submit your photo to #TravelTuesday! Just send it via email to us at: learnmore (at) redweek (dot) com. Let us know your name, where you are from, and where the photo was taken.
Categorized in: Empire State Building, Manhattan, New York City timeshare rental, timeshare travel, traveltuesday