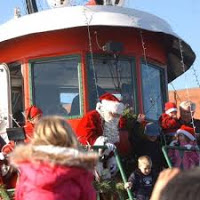 Now that the turkey and trimmings are behind us, Santa begins his season. For a wonderful holiday timeshare vacation, take a look at 4 top events in New England where Santa reigns supreme.
1. Cruising In. Santa is a guy who likes a dramatic entrance. In seaports Rockport, MA (December 1) and Kennebunkport, ME (December 4) Santa arrives in town on, what else, a lobster boat. When he hits Mystic, CT, he cruises in on a tugboat (see top photo).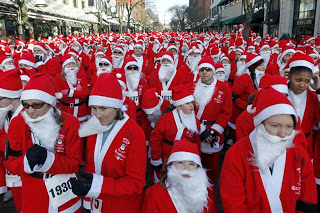 2. Run and Walk. Approximately 2000 Santas are expected to show up in Burlington, VT, on December 2, for the second annual Santa 5K Run and Walk, sponsored by the Ri-Ra Irish Pub. The entry fee and runner pledges support Camp Ta-Kum-Ta, a year-round camp for children with cancer.
All participants receive a Santa suit to wear during the race, and afterward , runners go back to the Ri-Ra for a hot Irish breakfast.
3. Speedo. A bit cold (and a little risque) but all in fun, the 13th annual Santa Speedo Run, which began in Boston in 2000 when 5 guys wanted to spread some holiday spirit, will be held on December 13th. No full Santa suits here – all you need to join in is a Santa hat and a swim suit. Five hundred brave souls participated in last year's race.
The 2012 event will raise money for the Play Ball Foundation, an organization that provides Boston middle school students the chance to play and build character through sports.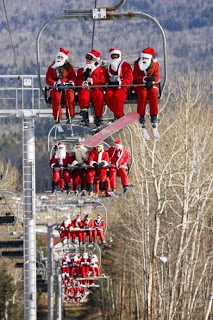 4. Ski. Dress like Santa and ski free on December 2 on Sunday Santa at Sunday River Resort in Newry, ME. Although a free event, the sponsors are pleased when participants donate $10 for the Bethel Rotary Club's annual holiday toy drive.
"This is such a fun event," says Dana Bullen of Sunday River. "It's amazing to watch all those Santas skiing and snowboarding down the mountain. It gets everyone into the holiday mood, and it's for a great cause." 
Check out the many timeshare rentals and timeshare exchanges in Massachusetts, Vermont, Connecticut, and Maine.
Source: Boston Globe 
Photo Credit (top): thewesterlysun.com
Photo Credit (center): burlingtonfreepress.com
Photo Credit (bottom): sundayriver.com
Categorized in: Boston Santa Speedo Run, Burlington VT Santa 5K Run and Walk, Sunday River Resort, timeshare exchanges, timeshare rentals, timeshare vacation