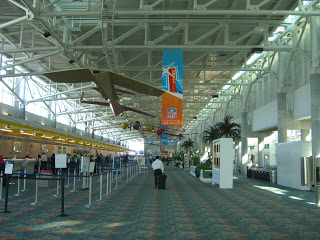 Sunday, November 25 is expected to be the busiest travel day, followed by Wednesday, November 21 and Monday, November 26 for the 2012 Thanksgiving holiday.
While you are planning an enjoyable timeshare vacation for Thanksgiving, it might help to know which airports will be the busiest, and which ones will be time-savers.
Travel booking site Orbitz has announced its list of the busiest and least-busy airports for this Thanksgiving travel season based on flight bookings at the top 50 U.S. airports.
"We talk all the time about using alternative airports when it comes to finding a better price, but those options can also be a huge time saver when you are traveling during peak periods like Thanksgiving," Jeanenne Tornatore, senior travel editor for Orbitz.com.
"Look at Southern California – LAX is the second-busiest airport in the country over Thanksgiving, but just 40 miles away you have John Wayne, which is No. 8 on Orbitz least-busy airports list," said Tomatore. 
Check out the busiest and least-busy airports for Thanksgiving 2012 below.
Least Busy Airports: 
1. Salt Lake City International Airport
2. San Antonio International Airport
3. John Wayne Airport, Orange County, CA
4. Palm Beach International Airport
5. Nashville International Airport
6. Colorado Springs Airport
Busiest Airports: 
1. Chicago-O'Hare International Airport
2. Los Angeles International Airport
3. Denver International Airport
4. San Francisco International Airport
5. Miami International Airport
6. Ronald Regan National International Airport
If you plan to fly into a major airport, look for a nearby regional airport that often will not only offer lower airfare prices, but will be less busy, easier to get around in, and is generally within less than an hour's drive of your original destination.
For example, if you're flying into Denver International Airport, opt instead for Colorado Springs Airport. Put massively crowded Los Angeles International Airport (LAX) aside and head, instead, to John Wayne Airport in nearby Orange County.
Why fly into Miami International Airport, one of the nation's busiest, when you can fly into Palm Beach International Airport? And a great alternative to bucking the crowds at San Francisco International Airport is Norman Y. Mineta San Jose International Airport.
Regional airports that are located in urban areas, such as those mentioned here, are serviced by many of the major airlines. Opting for this alternative can prevent your nerves from getting trampled by the Thanksgiving crowds, and will get you to your timeshare rental vacation destination more relaxed and ready for an enjoyable time with friends and family.
Photo Credit: huffingtonpost.com
Categorized in: Chicago O'Hare International Airport, Denver International Airport, Los Angeles International Airport, timeshare rental, timeshare travel, timeshare vacation