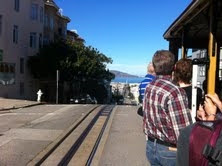 Hanging on the side of a cable car as it readies itself to plunge down one of San Francisco's famous steep streets, this photo was taken by Mandel M., Colorado. The San Francisco Bay is in the background.
An iconic tourist attraction of San Francisco, the cable cars form a part of the city's urban transport network. Only three of the 23 lines that were originally established in the late 1800s are still in use.
The cable cars are the only mobile National Monument in the world, and are also listed on the National Register of Historic Places.
Stay in a San Francisco timeshare rental when you visit the City by the Bay. You can find timeshare rentals downtown for as little as $93/night.
Categorized in: City by the Bay, San Francisco Bay, San Francisco cable cars, San Francisco timeshare rental, timeshare rental, timeshare travel