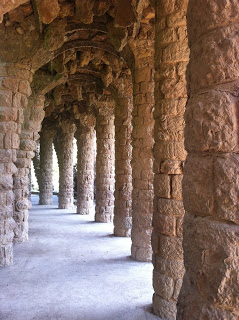 Colannaded pathway at the Park Güell, Barcelona, Spain. Submitted by M. McDonnell, Mesa, AZ.
A garden complex with architectural elements, Park Güell was designed by famed architect Antoni Gaudí and built in the years 1900 to 1914. It is part of a UNESCO World Heritage Site.
This colonnaded footpath was built under the roadway viaduct with external columns sloping to take the diagonal thrust from the vault supporting the road.
See more of Antoni Gaudí's work and stay in a timeshare rental in Spain.
Submit your photo to #TravelTuesday! Just send it via email to us at: learnmore (at) redweek (dot) com. Let us know your name, where you are from, and where the photo was taken.
Categorized in: Antoni Gaudí, Barcelona, Park Guell, Spain, timeshare rental, timeshare travel, traveltuesday, UNESCO World Heritage Site