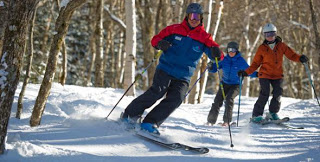 For the 14th year in a row, Smugglers' Notch Resort in northern Vermont has been selected as #1 for family programs by readers of SKI Magazine in the magazine's annual survey for their Resort Guide.
"Over more than two decades we have focused our mission on being the best resort for family fun, anywhere," says Bill Stritzler, Smugglers' Notch Resort owner and managing director.
"We continually update our programs to remain responsive to the changing vacation interests of families, while our staff goes the extra mile to provide a great vacation experience. We are pleased and appreciative that when surveyed about family programs, SKI magazine readers continue to position Smugglers' Notch as #1," said Stritzler.
In addition, Smugglers' was ranked as the top ski resort in Vermont and #3 among Eastern resort rankings. Smugglers' also received top 10 ranking among Eastern resorts in the categories of value, and off-hill activities.
Smugglers' also placed in the top 10 in the East for the challenge and variety of its terrain, grooming, snow, weather and scenery.
Smugglers' three mountains and 78 trails feature 1000 acres of terrain for all abilities, from the novice skiers and riders enjoying Morse Mountain's gentle runs to the extreme experts taking on Madonna Mountain's double and triple black diamond Fab Five trails.
Madonna Mountain's summit chair terminus enjoys a 360 degree view of Vermont, New Hampshire and Canada, and several trails offer sweeping views of the Lake Champlain Valley.
This winter, the resort is investing over $1 million in enhancements to its snowmaking system for additional early and late season trail coverage.
Smugglers' Snow Sport University is adding a twice weekly women's clinic and a mountain ski and ride tour and offslope adventures programs for young adults ages 16-20 that will include snowshoeing and ice climbing.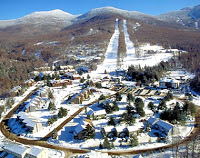 A new natural feature terrain park in an intermediate glade will have log slides and walls, rock jumps, and more for freestyle skiers and riders.
Smugglers' winter fun includes snow tubing, ice skating, an indoor pool and hot tub, Nordic skiing and snowshoe terrain, indoor FunZone with climbing inflatables, and centers for teens.
Smugglers' Notch timeshare rentals start at just $121/night.
Photos Credit: smugglersnotchresort.com
Categorized in: Madonna Mountain, SKI Magazine, skiing in Vermont, Smugglers' Notch Resort; Smugglers' Notch timeshare rentals, Smugglers' Snow Sport University, timeshare vacation, Winter timeshare vacation