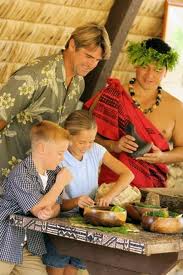 When you buy a timeshare you return again and again to a favorite part of the world. And when you own a timeshare in Hawaii, you get to have a dream vacation every time you go.
Sunbathing on the beaches, taking an outrigger canoe ride on the blue Pacific ocean, hiking through rain forests and around amazing waterfalls, enjoying Kalua Pua'a and Poi at a Luau – it's all there for you.
However, after you've gone back a few times, it's always fun to find something new and different to do while you're vacationing on the Islands. Below are 3 new activities on Oahu that you just might find a lot of fun.
1. New at the Polynesian Cultural Center.(see top photo). This popular activity spot is unveiling a newly rebuilt Hawaii Village reflective of an ahupuaa, a land division used by ancient Hawaiians. The village features new activities, architecture and exhibits, including two vital elements of Hawaiian life – loi kalo, an irrigated terrace used to grow taro, and loko ia, a fishpond.
The Polynesian Cultural Center is a living museum that showcases seven different Polynesian cultures from around the Pacific Rim. In addition to the daytime exhibits where various arts and crafts are demonstrated, the evening shows are extravaganzas of Polynesian music and dance.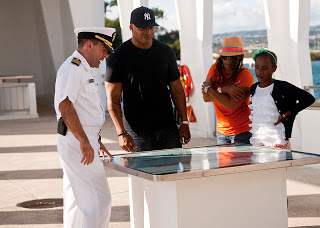 2. New at Pacific Historic Parks. A new "Behind the Scenes" escorted tour for families and small groups of ten or less is now being offered at the USS Arizona Memorial and the new Pearl Harbor Visitor Center. 
This fascinating tour includes: In-depth history of the attack on Pearl Harbor; opportunity to meet a Pearl Harbor Survivor or witness to the attack; USS Arizona Memorial audio tour; escorted tour of the Pearl Harbor Visitor Center's two museums; USS Arizona Memorial tour, which includes a National Park Service movie and boat ride to the monument; and lunch at Schooners Restaurant with PHP executives
The $500 fee is used as a donation toward the restoration of the USS Arizona Memorial and is tax deductible.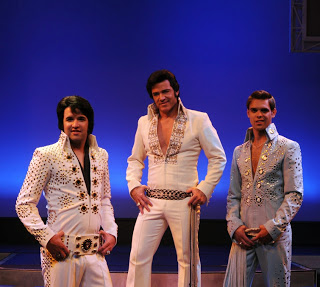 3. New at the Royal Hawaiian Theater. For a fun musical evening it's "Rock-A-Hula" with the Legends in Waikiki Concert at the Royal Hawaiian Theater. Watch the best of yesteryear brought to life through realistic performances by tribute artist of popular entertainers such as Elton John, Lady Gaga, Elvis Presley and Michael Jackson.
Known as "Las Vegas Hawaiian Style," this spectacular live concert event is a family-friendly musical celebration of some of your favorite singers. It's a multimedia, multi-sensory experience that will transport you to the time when classic superstars thrilled concertgoers.
If you're thinking you might want to buy a timeshare in Hawaii, take a look at the many resales that are available. Some start as low as $800.
Photo Credit (1): gohawaii.about.com
Photo Credit (2): pearlharboroahu.com
Photo Credit (3): legendsinconcert.com
Categorized in: buy a timeshare, buy an Hawaiian timeshare, Legends in Waikiki Concert, Polynesian Cultural Center, timeshare vacation, USS Arizona Memorial