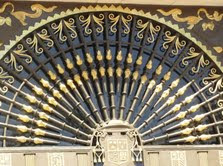 Hearst Castle Detail, submitted by Joann W., California.
In 1919 publishing magnet Randolph Hearst began building what was to become one of the world's most opulent showcases – Hearst Castle, located in San Simeon, California.
With its 165 rooms and 127 surrounding acres of landscaped gardens, terraces, pools and meandering walkways, along with a grand view from a hilltop that overlooks the sparkling Pacific Ocean, this estate is one-of-a-kind.
It is now both a National and a California Historical Landmark, and is maintained by the state of California as a state historic park.
Despite its location far from any urban center, the site attracts about one million visitors per year.
Check out California timeshare rentals and timeshare resales.
Submit your photo to #TravelTuesday! Just send it via email to us at: learnmore (at) redweek (dot) com. Let us know your name, where you are from, and where the photo was taken.
Categorized in: California Historical Landmark, San Simeon, timeshare rentals, timeshare resales, timeshare travel, traveltuesday