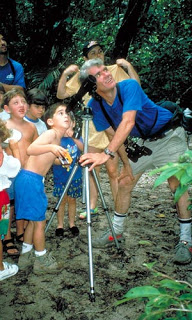 Finding a kid friendly timeshare vacation destination can be the difference between a trip full of whining, screaming torture and one filled of laughter and memories that will last a life time. That's why we've put this list together for you of the top five destinations that your little ones will enjoy
1. Costa Rica
The natural beauty and culture that surround this adventurous land is enough to bring out the kid in anybody. The country is packed with enormous volcanoes, sunny beaches, one-of-a-kind rainforests and some of the most exotic wild animals you'll ever see.
Your children will not only be astounded with the natural sites, but also gain a look into the biodiversity that makes up this world.
2. Grand Canyon National Park, Arizona
One of the most breathtaking sights in the world is the Grand Canyon National Park in Colorado. But it's not just about the sites here – there are many free activities that help kids learn about nature in a fun and engaging way. For instance, the Junior Ranger program allows youngsters to go along with the park's rangers and learn what they do to preserve National Parks.
The process involves completing assignments in their research booklet, then going back to have the research reviewed by actual park rangers. After being sworn in at a ceremony, your child will become an official Grand Canyon Junior Ranger Certificate, complete with badge and certificate. If that isn't something they'll want to run home and tell their friends about, we don't know what it!
3. Italy
Probably the most family-friendly country in Europe thanks to the strong family values of the Italian people, the accommodations afforded children during their visit to Italy makes a world of difference. The historic value and beauty of Italy is sure to astound children as they marvel at the sheer scope and size of the statues and museums.
Plus, the kids will love the food. Pizzerias and trattorias are extremely accommodating to children, toddlers and babies.
4. Turks and Caico
Only about a 75-minute plane ride from Miami, the Turks & Caicos Islands boasts a 45,000 square-foot, state-of the- art water park and 12-miles of powder white sand beaches that are enhanced by clear turquoise waters.
Kids can enjoy custom-made, supervised programs for five different age levels at no extra charge as parents go off into the sunset to enjoy the perfect romantic backdrop of the Turks and Caicos Islands.
5. Orlando, Florida
Although home to Walt Disney World, the magnificent resort consisting of four parks: the Magic Kingdom, Epcot, the Animal Kingdom and Disney's Hollywood Studios, Orlando offers much more.
Kids also love Blizzard Beach and Typhoon Lagoon as well as Universal Studios Orlando, SeaWorld Orlando and Universal's Islands of Adventure. In short, this is the number one, best place to take your kids on holiday.
Each of these vacation destinations offer budget-friendly timeshare rentals. They all are great destinations to buy a timeshare resale directly from the owner as well..
Our guest author, Dillon Michaelson, is from Insanely Cheap Flights, one of the most sought after travel websites for people on the lookout for last minute flights. If you're searching for cheap tickets to destinations like New York, Las Vegas, Orlando etc., do visit Insanely Cheap Flights today.
Photo Credit: villascostarica.com
Categorized in: budget-friendly vacation, cheap flights, Grand Canyon, kid-friendly timeshare vacation, timeshare rentals, timeshare resales, timeshare vacation