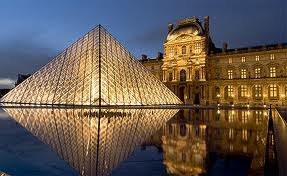 Paris is one of the most romantic cities in the world. The Louvre Museum is the one of the most romantic art museums in the world. What more perfect combination for a Valentine's Day getaway and a great reason to have a timeshare vacation to Paris.
The Louvre houses priceless artwork such as Leonardo da Vinci's Mona Lisa. But the Louvre has an intriguing history. See if you know these 7 fascinating facts:
1. A Museum for the People. The Musée du Louvre, as the Louvre Museum is known in Paris, had a unique beginning. It opened in 1793 on the one-year anniversary of the French Revolution's imprisonment of King Louis XVI, with the intentions of it being a public museum. Until then art was held either by the crown or by the church, and unavailable for viewing by the normal population.
2. The Mona Lisa. The Mona Lisa itself was obtained after the French Revolution when Versailles, where the painting had been brought by King Louis XIV, was looted by the leaders of the revolution.
3. Current Collection. Today over 100,000 pieces of artwork and artifacts are on exhibit, spanning the centuries between prehistory through the 1800s. A total of eight curatorial departments are housed in an exhibit area that covers 652,300 sq ft..
4. Surprise! A Royal Palace.And it is just that exhibit space that makes the Louvre more than an art museum. In actuality, the museum building itself is a piece of art. Many people do not realize that the Louvre Museum is actually a Royal Palace.
5. The Old Louvre. The Louvre Palace, or Palais du Louvre, was originally built during Medieval Times, and remnants of that construction can still be seen in the Louvre's basement. "The Louvre" is the name given the fortress by King Phillip II in the 12th Century.
6. The New Louvre. The Louvre Palace today is a sprawling complex of wings on four levels, a result of century after century of remodels and add-ons, until King Louis XIV built Versailles and moved stock and barrel to the "country."
Until then the Louvre Palace had been the active seat of French government, and the official residence of king and court. What better way for the French Revolution to make its statement of "for the people" than by turning the centuries-old symbol of monarchy rule into a public museum?
Visiting the Louvre and seeing world-famous priceless exhibits is a thrill for any tourist. Knowing that when you visit you are actually walking the halls of a Royal Palace can make the experience all that more exciting. 
Stay in a Paris timeshare rental for as little as $143/night. Buy a timeshare in Paris from the resale listings and you'll always have a romantic getaway waiting for you.
Categorized in: buy a timeshare, Louvre, Mona Lisa, Paris, Paris timeshare rental, romance, romantic, timeshare travel, timeshare vacation, Valentine's Day