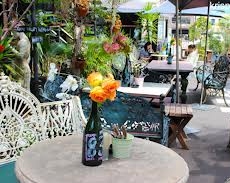 In the age of the internet café and free Wi-Fi at Starbucks, I was wondering, where can you get that old school "I'll take three hours to drink this artisan latté" experience?
We're talking about the real deal of café culture, the kind of place you could picture Picasso kicking back to enjoy a charcuterie plate and afternoon glass (or bottle) of wine. Obviously any café that could ever come close to offering this much intellectual swagger would be located in Paris.
Whether you're looking for things to do in Paris while pondering the ideas of existentialism, or just want to get tipsy on a quaint side street with European hipsters, the City of Light has a café for you.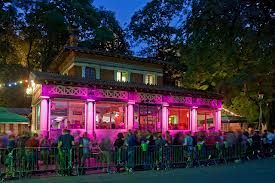 1. Rosa Bonheur.  Looking for a place to spend a quintessentially artsy French night out? Rosa Bonheur, named after the famous free-spirited, pants-wearing Parisian bohemian painter is a hot spot to while away a late night enjoying some delicious sangria in a carefree atmosphere.
The café originally opened in 2008, but has only recently gained popularity as a pretension-free hangout spot for hip families, fashionistas, art scenesters and local Parisian hipsters. You can get a bottle of wine for a reasonable price (15 euros!), and dance the night away in the charming wood-framed café or outside on the lawn.
Café Rosa Bonheur is located in the 19th Arrondissement and is accessible through the gates at 7 rue Botzaris.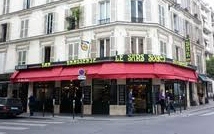 2. Le Sans Souci.  Le Sans Souci is a charming dive bar and café located in the middle of the popular Pigalle section of Paris. The laid-back attitude at Le Sans Souci – which literally means "no worries" in French – makes it the prefect place to enjoy an affordable draft after a long day of exploring the city.
The crowd here is filled with 20-something professionals, international hipsters and drunken intellectuals who all have one thing in common; they love a tipsy chat in a quirky setting. Le Sans Souci is a popular destination so it's recommended to get there early if you have your heart set on grabbing a seat indoors.
Next week we'll look at three more of the most popular cafes in Paris in Part 2.
Plan your timeshare vacation with Paris timeshare rentals which start at just $143/night.
Our guest author, Daniel Hogan, is a writer at Party Earth – a global media and entertainment company that publishes reviews and listings of the best social experiences around the world including: the cafes in Paris, pubs in London, beaches in Ibiza, plazas in Rome, parks in New York, festivals and concerts everywhere, and more.
Photo Credit (top): krispiekremes.wordpress.com
Photo Credit (1): bonjourparis.com
Photo Credit (2): evous.com
Categorized in: Le Sans Souci, Paris cafes, Rosa Bonheur, things to do in Paris, timeshare rentals, timeshare travel, timeshare vacation Paris timeshare rentals