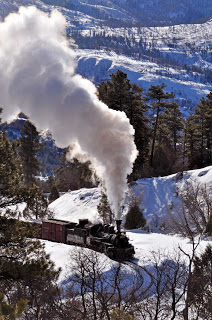 One of the best ways to see untouched and unspoiled winter beauty in Colorado is to ride the Durango and Silverton Narrow Gage Railroad. Plan a timeshare vacation in or around Durango, nestled in the beautiful San Juan Mountains of southeastern Colorado, for truly spectacular winter scenery.
During the winter months, due to the heavy snows that the San Juan Mountains experience which prevents the train going all the way to Silverton, the D&SNG offers a shortened, fascinating ride to Cascade Canyon. This trip takes you through the San Juan National Forest and along the Animas River in the comfort of heated coaches.
Cascade Canyon is a wonderful wilderness destination and therefore there are no stores or restaurants. However there are picnic tables along the Animas River, and a covered pavilion just steps away from the train – all a perfect luncheon setting where you can enjoy the spectacular beauty of the natural, scenic canyon.
Use your timeshare kitchen to pack a lunch, or enjoy the light lunch selections available onboard the D&SNG. Or you can pre-order a special boxed lunch from Durango's Red Lantern Catering company.
Besides seeing beautiful scenery, riding the train is just plain fun. This historic train has been in continuous operation for 128 years, carrying passengers behind vintage steam locomotives and in cars indigenous to the line. You'll relive the sights and sounds of yesteryear, from the clacking of the wheels and the gentle swaying of the cars, to blowing cinders and the sounds of the great steam whistle.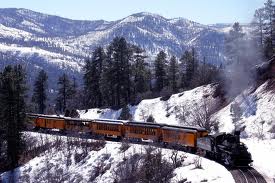 The Durango-Silverton trip is so exceptional it received a 5-Star award from the National Association of Travel Journalists and was named one of the top ten most exciting train journeys in the world by the Society of American Travel Writers.
Stay in a timeshare rental right in Durango, and just across from the D&SNG roundhouse, at the Wyndham Durango for just $114/night.
You can also enjoy a timeshare vacation at the Purgatory Resort, just 27 miles from Durango, which sits at the base of the Purgatory ski area with 72 trails and 38 miles of groomed slopes.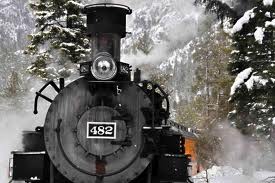 Or stay in a Wyndham Pagosa timeshare rental for a little as $85/night. You can still enjoy a D&SNG train ride as Pagosa Springs is less than a hour from Durango. And it's just a quick drive from Pagosa Springs up to Wolf Creek for more great skiing.
Categorized in: Cascade Canyon, Colorado winter vacation, Durango and Sovlerton Narrow Gage Railroad, Purgatory Resort, timeshare rentals, timeshare vacation, Wyndham Durango, Wyndham Pagosa