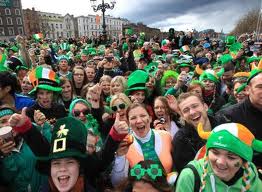 While many famous St. Patrick's Day celebrations take place in America, including New York City, Chicago and Boston, other cities around the world also get in on the wearin' o' the green and the celebration of all things Irish.
Plan a timeshare vacation and experience St. Patrick's Day in different accents!
1. Dublin, Ireland. What better place to celebrate this most famous Irish holiday than in Ireland? Last year, an estimated 500,000 festive folks flocked to the city to celebrate the holiday and enjoy a few authentic pints.
This year, the city is putting a spin on its annual parade with a new theme of the "People's Parade," allowing 8,000 people from around the world to sign up to be in the ceremony and take in the electrifying atmosphere as they march down the historic streets.
Some of the city's historical buildings will light up in festive colors for the Greening of the City. And while in Dublin be sure to pay a visit to the Guinness brewery to enjoy a fine beer straight from the source.
2. Florence, Italy. It may not seem like your typical St. Patrick's Day destination, but from March 17th through March 22nd, Florence honors the patron saint of Ireland with a 'Festa Irlandese,' or Irish Festival. 
During this festival, the city offers an Italian spin on the holiday while also hosting pub crawls and live music. If you're interested in the ultimate Irish pub experience Italian-style – head to Finnegan's, which is said to be the only Irish-owned pub in the city.
3. London, England.London's St. Patrick's Day celebration drew over 100,000 visitors last year. London hosts a holiday festival at Trafalgar Square that's full of Irish traditions such as music and dance, which are perfect for families and free to enjoy. In addition, London offers more authentic Irish-owned pubs than any other city outside of the Emerald Isle, where you can enjoy some of Europe's finest – and oldest – Irish whiskeys and beers.
4. Sydney, Australia. This down-under city boasts a gigantic St. Patrick's Day Parade of its own, complete with an overarching narrative and themed floats, and is most notable for its party scene. On St. Patrick's Day the Sydney pubs and bars stay open until the wee hours, serving up traditional Irish music and Jameson in equal proportion.
Those with stronger stomachs and more grandiose party appetites can also check out the St. Patrick's Day Booze Cruise, which sails through Sydney Harbor for three crazy hours of holiday celebration.
5. Buenos Aires, Argentina. In March, Buenos Aires boasts near-perfect weather, and when you take into account it has the fifth largest Irish community globally, there may be no better time than the present to pay a visit to Argentina.
With narrow streets and its very own city-wide parade, Buenos Aires offers an authentic experience, as well as a crowded, rambunctious city geography that lends itself to international celebrations like this one.
Traveling the globe is easy and budget-friendly when you stay in a timeshare rental or timeshare exchange.
Source: Reuters
Categorized in: Dublin, Festa Irlandese, London, St. Patrick's Day, St. Patrick's Day parade, Timeshare Exchange, timeshare rental, timeshare travel, timeshare vacation